If an MC SmartPlan is active (active MC SmartPlan - you have added recruits to the SmartPlan), you cannot fully edit the content. You can change the name of the MC SmartPlan, email and text content, and task descriptions. That being said, you will not be able to add, remove, or reorder steps.
To edit an active SmartPlan:

1. Log in to https://agent.kw.com with your Keller Williams login credentials.

2. Click Command MC at the top of the page.

3. Click the SmartPlans icon,
, on the left side of the home page.

4. From the SmartPlans list, find the plan you are going to edit and click the Edit icon,

, in the Actions column.
You will then see the steps included in the SmartPlan, and you can edit the content, within each step, that will be sent out. At this point, we are not able to edit or add the actual steps that are in the list (since their are contacts added), just the content. See step 6 to learn how to fully edit the SmartPlan.

Content Editing Considerations
When editing an SMS/MMS, you will see two message types:

Static - with this option, you can set one text message that will be sent in this step, which will repeat if the SmartPlan repeats.
Dynamic - with this option, you can add multiple text messages for the same step. Each time the SmartPlan repeats, it will send a different text message to your contact, when this step is triggered.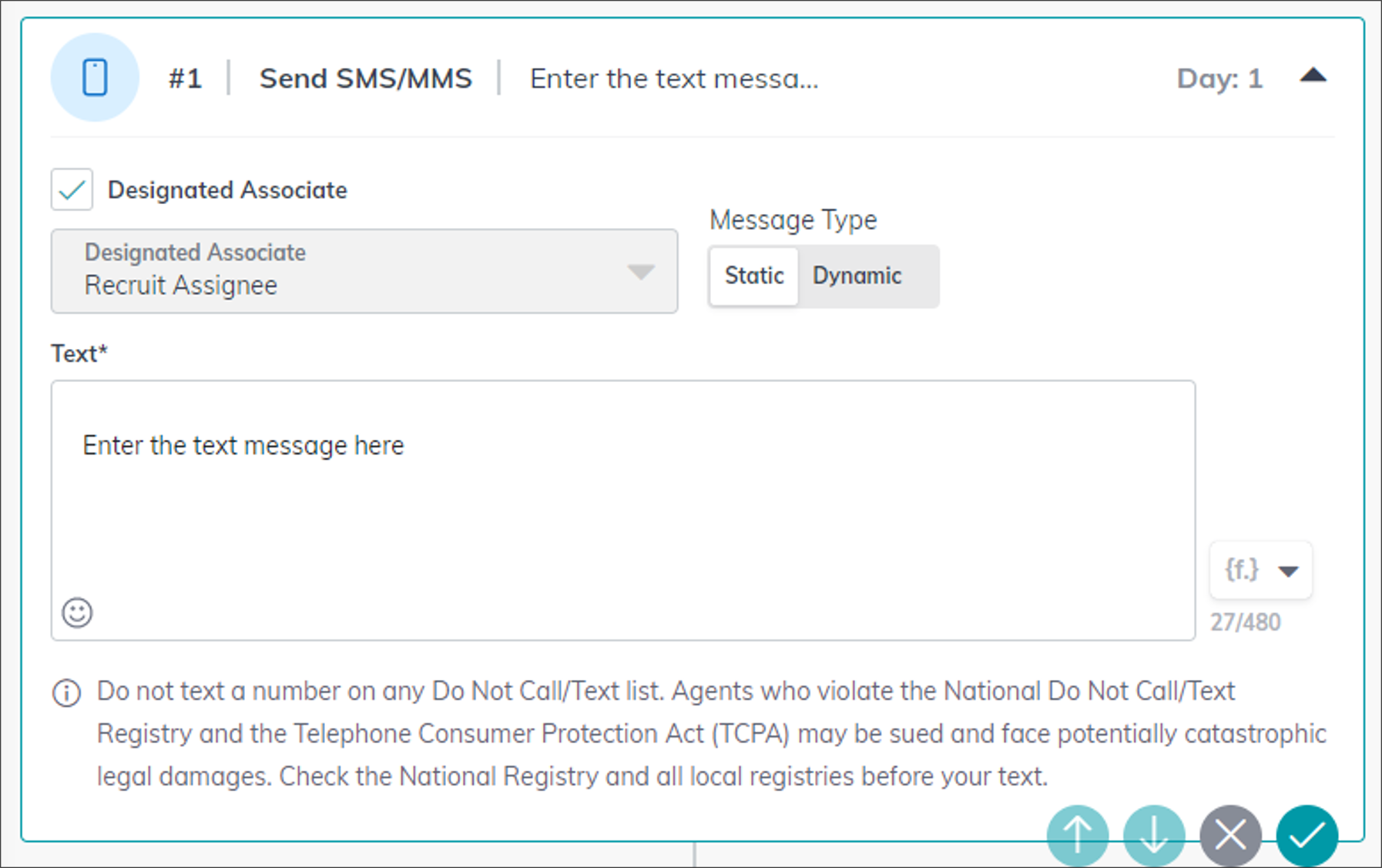 | | | |
| --- | --- | --- |
| | Currently all SMS/MMS messages will be converted to a task and will be located in the Tasks applet, for Recruits, within the Other Tasks section. | |
5. Once you have made edits, click the check mark, at the bottom right of the step, to save your changes.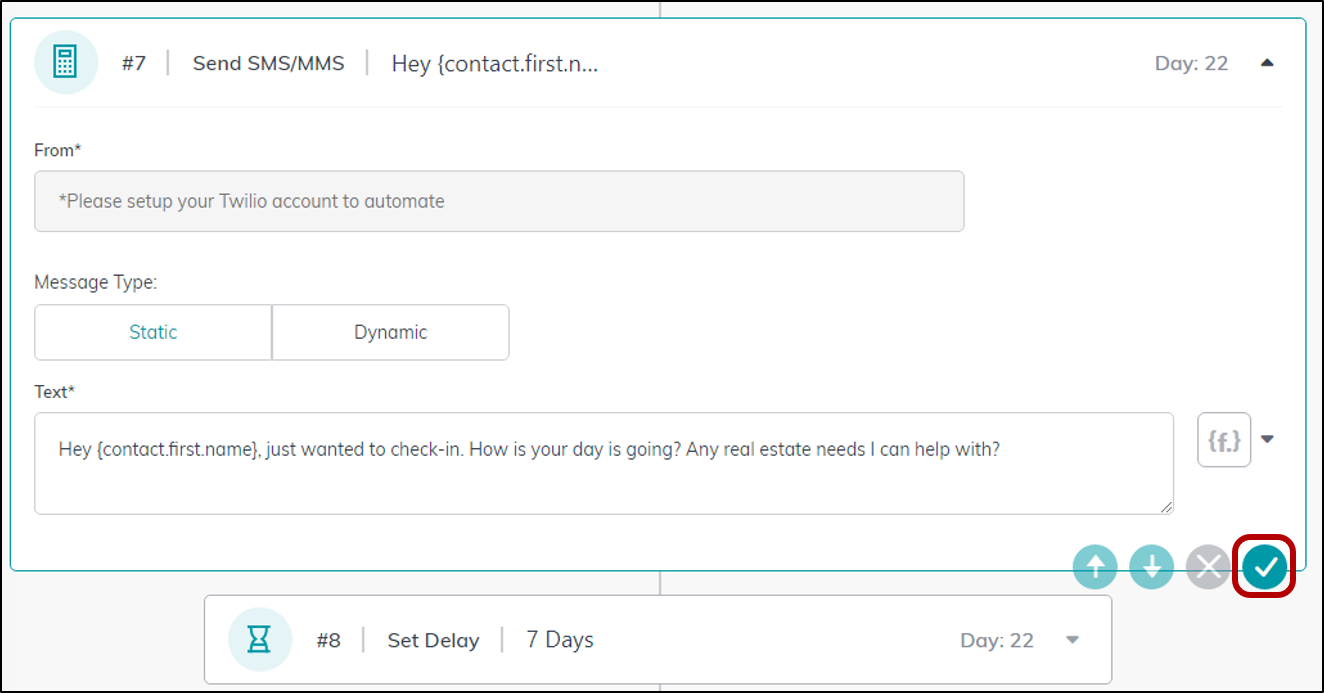 6. If you need to add, remove or delete steps from this SmartPlan, you will have to duplicate it (using the Duplicate SmartPlan button on the right side of the page), fully edit the new SmartPlan, and add contacts to the new SmartPlan once you are finished editing.
7. Click Make a Copy to confirm. The name of the SmartPlan can also be changed.
To learn how to edit an inactive SmartPlan (inactive SmartPlan - a SmartPlan with no contacts added to it, and what you just created when you duplicated this SmartPlan), visit: Edit an Inactive SmartPlan.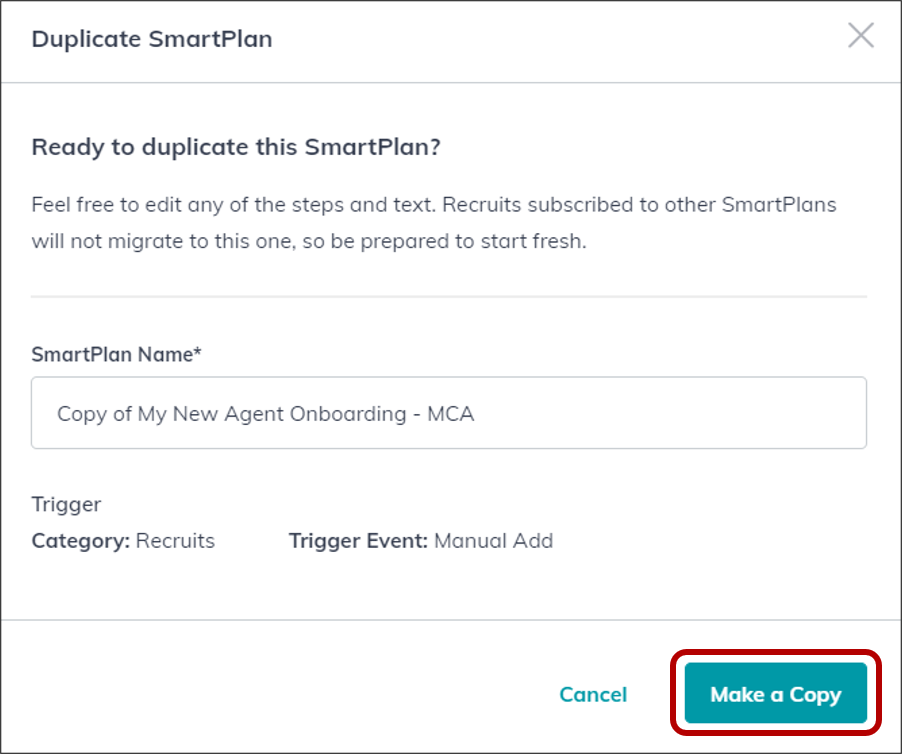 | | | |
| --- | --- | --- |
| | The My Birthday SmartPlan is not fully editable. You have the ability to edit the content of the texts, emails, and reminders, but you will not have the ability to add or remove steps. | |

7. Once you are completely done editing the content of this SmartPlan, click Save, at the top right of the page.