The Campaigns "Payment Profile" in the team Command account is separate from the payment profile within the personal Command account. If an agent on a team with either an Enhanced or Unlimited permission level has a card on file in their personal Command account for Campaigns, then they would need to add that same card to the team Command account. At this time there is not a shared payment profile for teams but that is coming soon.
Keep in mind, Twitter Campaigns do not use the card you have on file in Command and will not use or give credits on the Payments page in Command. All billing is setup through your Twitter Ads Manager.
To add a card and your payment profile for team Campaigns:
Access
1. Log in to https://agent.kw.com with your KW login credentials
2. Click your name, at the top right of the page, and ensure that your team is selected, not your personal account.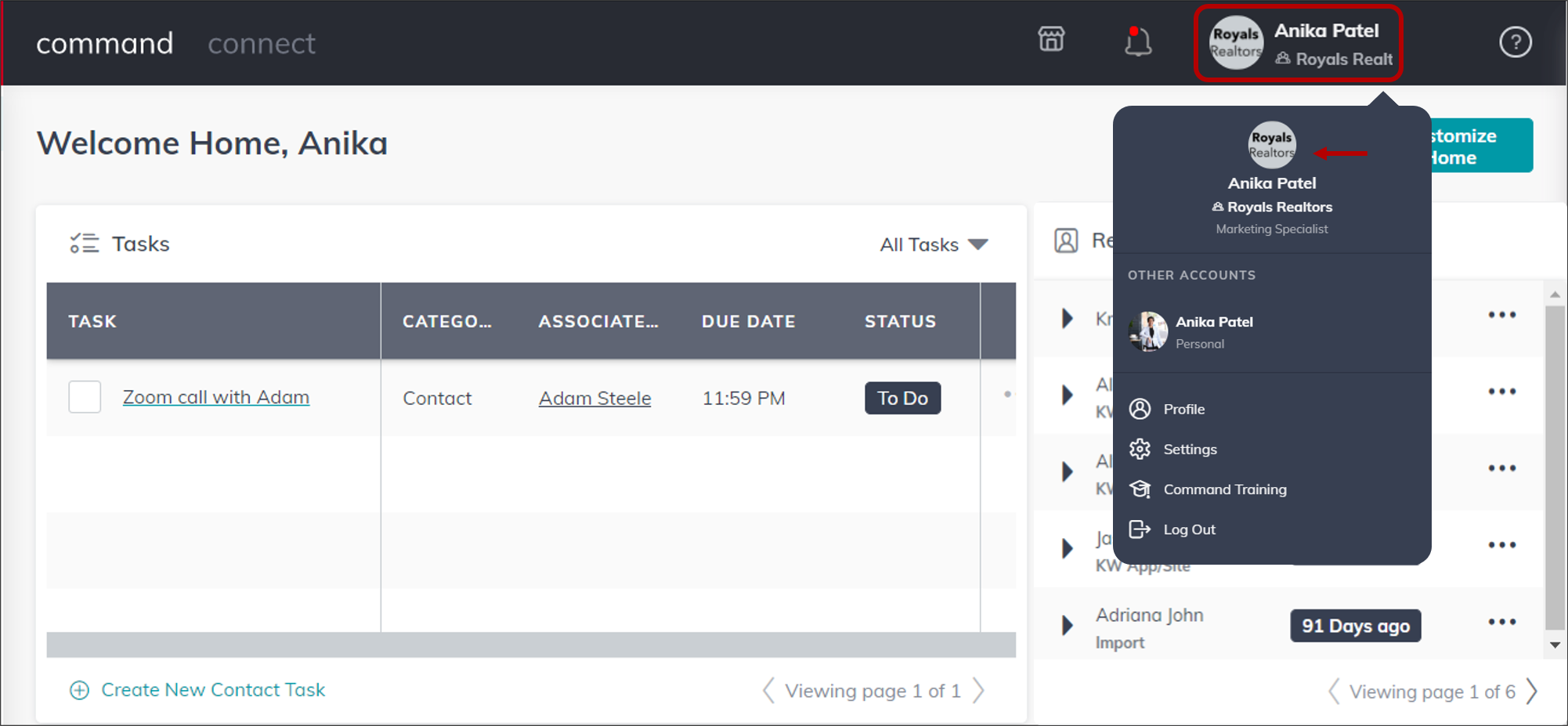 3. Click the Campaigns icon,
, on the left sidebar.

4. Click Payments at the top left of the page.

Navigation

Click Add Payment Method to add a credit card to your Payment Profile.

Remaining Credits indicates the amount of credit available to you when previous Facebook or Instagram Ad Campaigns did not run for the full spend or budget. For example, you will have a $25 credit when you set your budget for $100, but your ad only ran for $75. These credits will automatically apply to the next Facebook or Instagram Ad Campaign you launch.

"Default" indicates the credit card that is automatically used for payments. If you have one credit card listed, this will be your default card.

These action tools: Make Default and the Delete icon allow you to make these changes to the cards listed on your "Payment Profile":
- Click Make Default to change a card to your default card.
- Click the Delete to remove a card.
| | | |
| --- | --- | --- |
| | After the card has been added, there will be a temporary $1 hold. This is not a charge, but it may be visible to the user before it is reversed. In the case of debit cards, authorization holds can fall off the account anywhere from 1 to 8 business days depending on the bank's policy. In the case of credit cards, holds may last as long as 30 days, depending on the issuing bank. | |