Each Keller Williams agent has the ability to create a Google account when they first come on board with an @kw.com domain. The account is a KW branded Google account, branded to KW, which will include the core Google apps like Gmail, Drive, Google Docs, Sheets and Slides, and much more. The account also comes with unlimited storage capacity in Google Drive.
To sign up for your @kw.com Google account, please follow the instructions below.


1. Log on to http://mykw.kw.com, then hover over the "Technology" tab at the top of the page, and select KW Email from the drop down.


2. On the "KW Google Apps for Business Email" page, click the Sign Up link.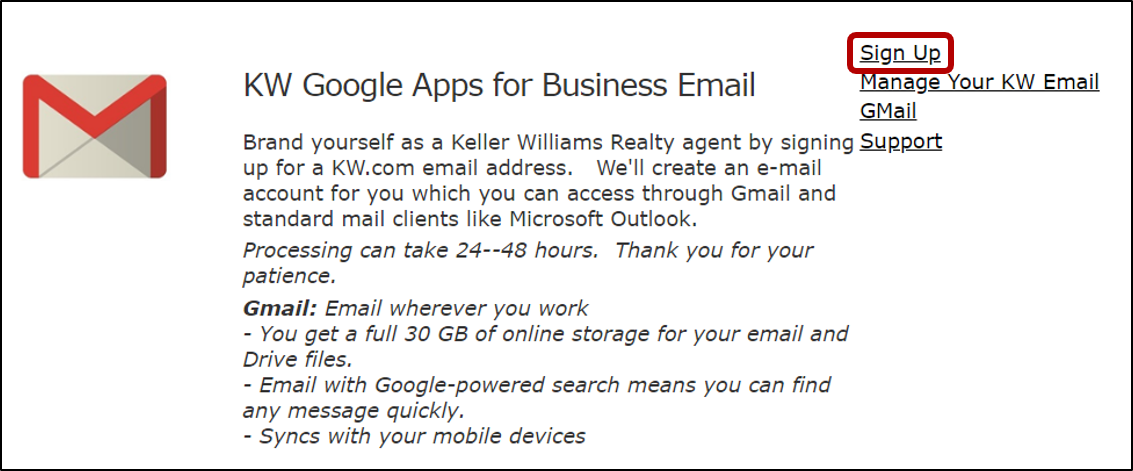 3. Create your account:

You first want to choose the required domain from the drop-down list. In most cases, you will choose @KW.com, but if you are a part of a membership group like KW Luxury or KW Commercial, you will have the option to choose the domain for your second account.

Once the domain is chosen, you will see a list of automatically generated email addresses you can choose from. You can choose one of these, or you can click on I'd like to choose a different email address and type in the email address that you would like to use.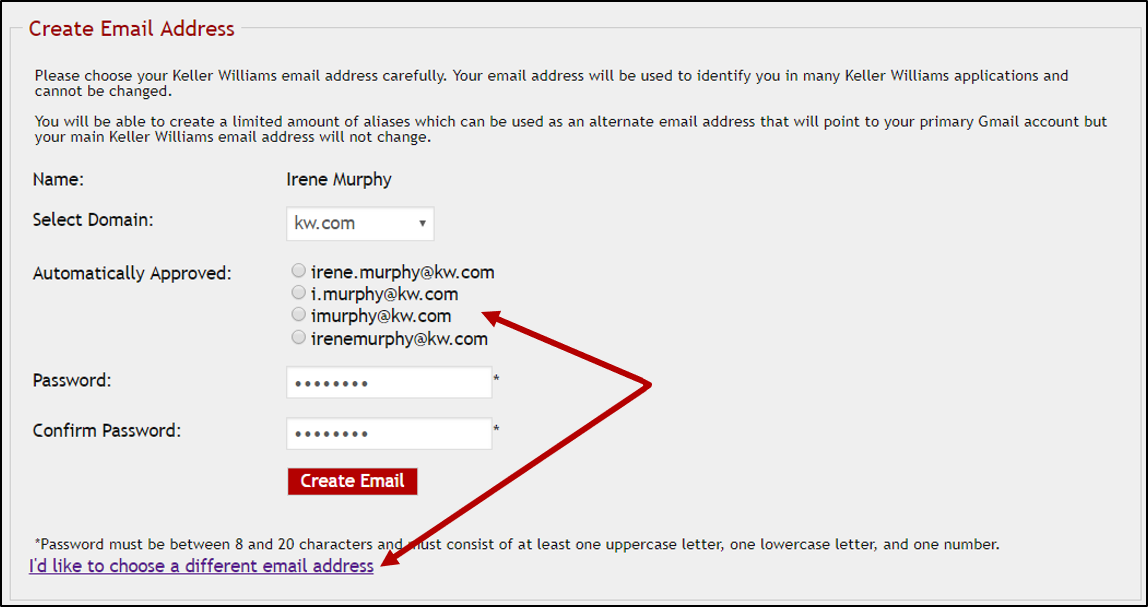 If you choose one of the automatically generated email addresses, it will be immediately approved and ready to use.​

The address must be a minimum of 4 characters. (This name should be easily associated with your name so that clients can better recall your email address. For agent Jane Doe, janedoe@kw.com would be a good choice.) Your address can be up to 16 characters long. Addresses may only consist of letters, numbers, hyphens, periods, and underscores. No spaces, commas, quotation marks, or other characters. Also, we will not approve a KW email address using any of the following:

KWRI
KLRW
KWRG
KWMC
agent
realty
realestate
realtor
culture
kwcares (or similar)
kwconnect (or similar)
keller (unless the first or last name of the associate is Keller)
MREA
MREI
millionaire
KW (before the @ sign)
frontdesk
director
dofi
customer
service(s)
copier
printer
assistant
compliance
client
mca
teamlead
operating principal
broker
admin
kpa
marketing
manager
listing
coordinator
luxury
commercial

Once you have chosen your address and have entered a password for the account, click the Create Email button.

Please be aware that you will not receive a direct confirmation from KW advising that your request was approved or denied. Emails are usually approved after 1 business day. To find out if your account was approved you can follow the first 4 steps of the sign-up process in order to determine the approval status of your request. The address request box will no longer be there. It will be replaced with a confirmation or denial message. The image below shows what this page will look like before and after your email address is approved:

Once the email address is approved, you can then sign in to your account at Gmail.com.