MailChimp recently announced changes to their free email product. This may result in Command users experiencing limited functionality or incurring a charge while using Email Campaigns and sending offers.

KWRI is working diligently to resolve this matter and will provide updates as they become available.

To learn how to disconnect your MailChimp account, to ensure that no emails are sent from Command using MailChimp, click here.
1. Log in to https://agent.kw.com with your Keller Williams login credentials.
2. Click the Campaigns icon,

, on the left side of the page.
3. Click Create New at the top right of the page.

4. Select Email.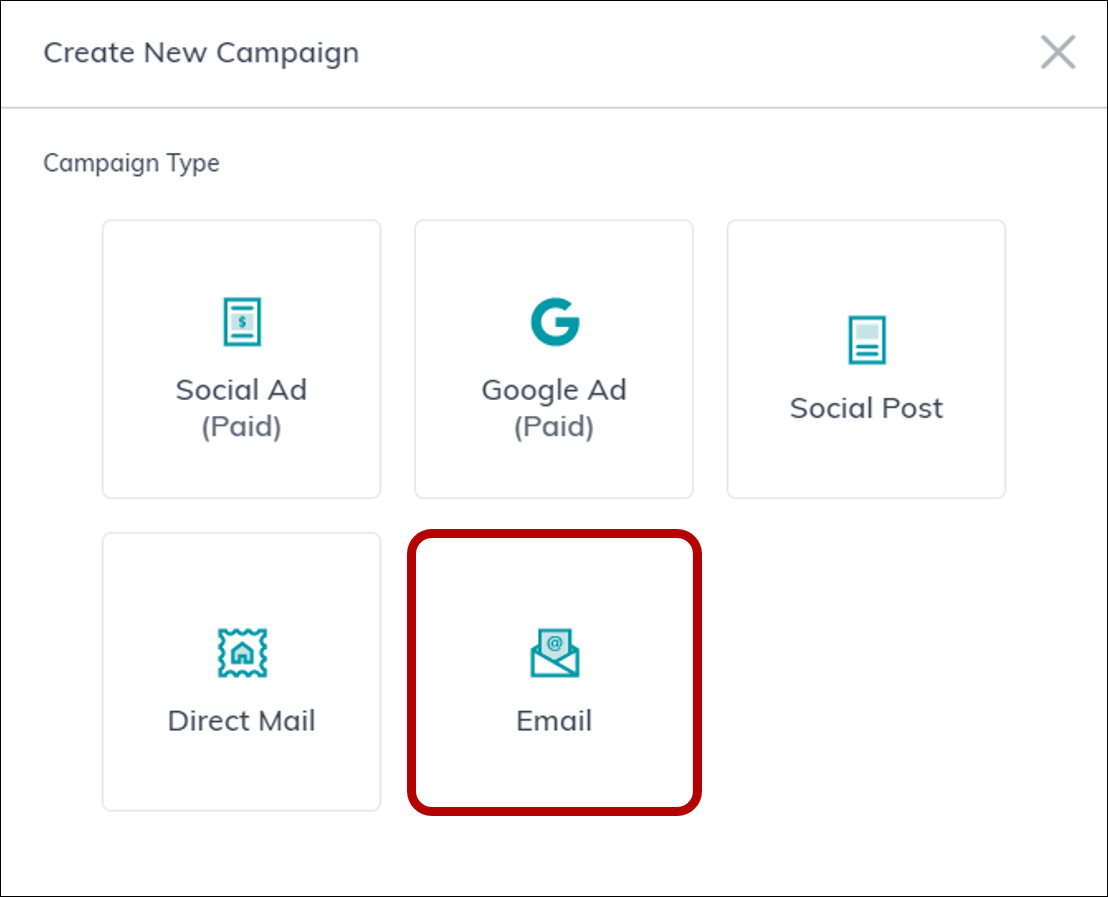 Campaign Name and Goal
5. Enter your campaign name and select your campaign goal.
Campaign Name - Enter the name of the marketing campaign in this field.
Campaign Goal - Set the campaign goal by clicking the drop-down and selecting one of the options.
Select Account
6. Select the email account this email campaign will be sent from.

Select Account - The email address associated with your MailChimp account will auto-populate in this field. If you have multiple MailChimp accounts, you will select the preferred account in this drop-down. To learn how to connect to applications like MailChimp, click here.
Recipient
7. Select a Recipient List, from the corresponding drop-down. This is who will receive the campaign.

If you don't have a Recipient List, click Add List, fill out the form, save the list, and it will appear in the Recipient List drop-down.
Sender
8. Enter the name of the sender and the email address that will receive the replies in the corresponding fields.

Email Subject
9. Enter the subject line for the email campaign. This field has an 80 character limit.

Content
10. Click on the desired design. You can also choose between "KW Templates" or "My Templates" by clicking the drop-down in the top right-hand corner.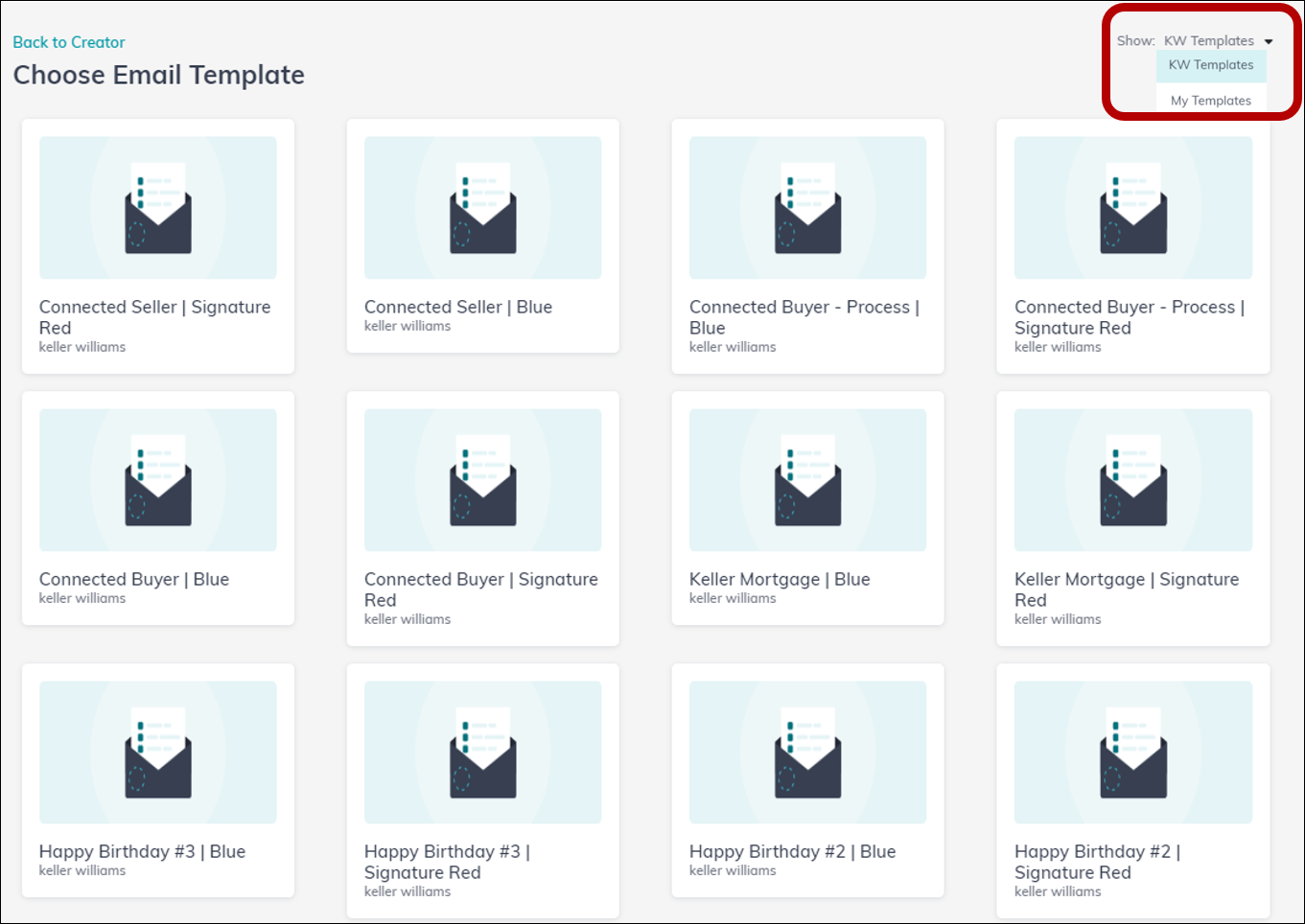 11. Your Marketing Profile will auto-populate into the agent fields, but you can change that information if you'd like. As you are making changes, you can update the design by clicking Update Preview.
Click Apply Design when finished.
12. Click Send when you're ready to send the campaign. You may also click Save as Draft and come back to the campaign later.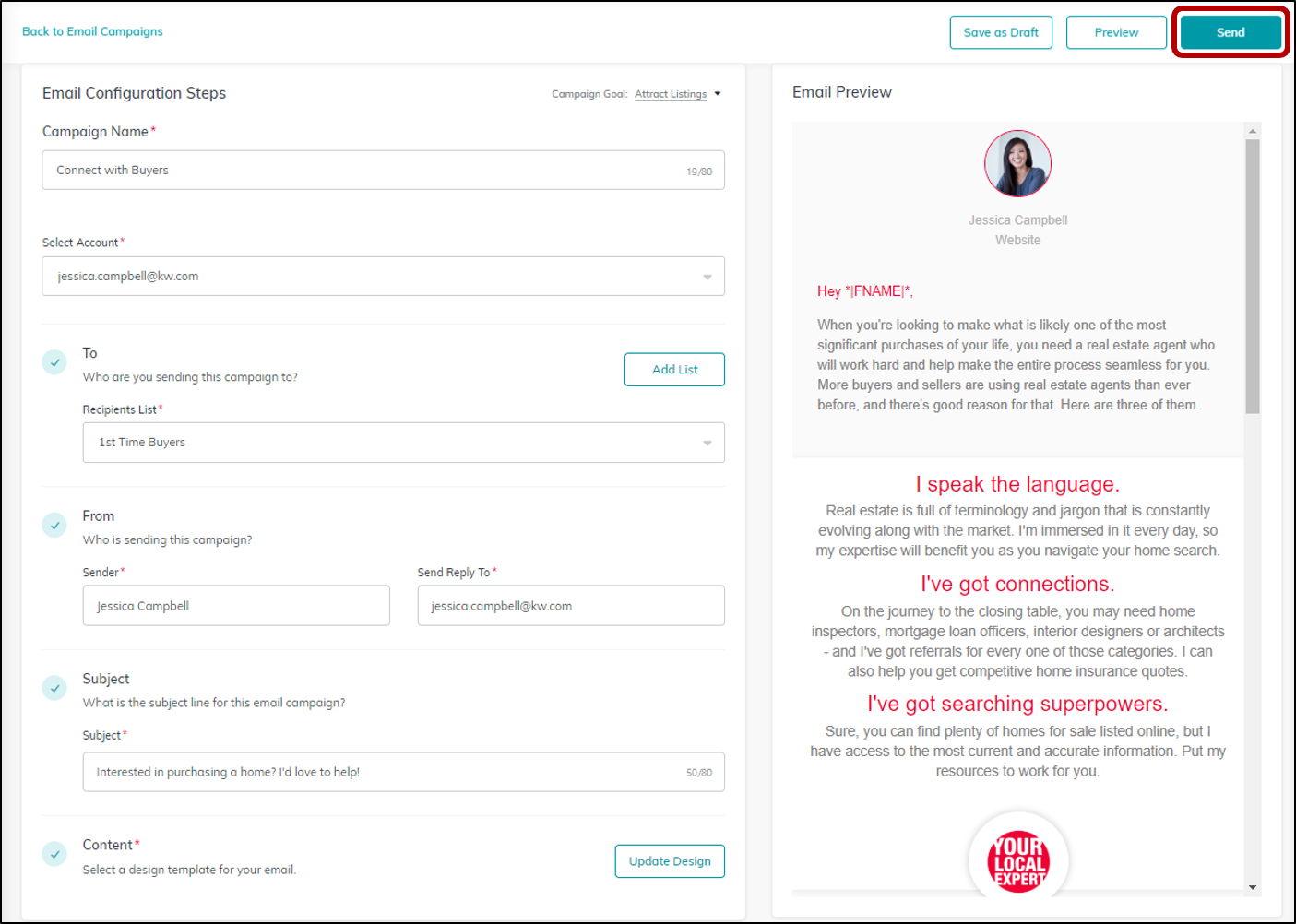 13. Click Send Now to confirm.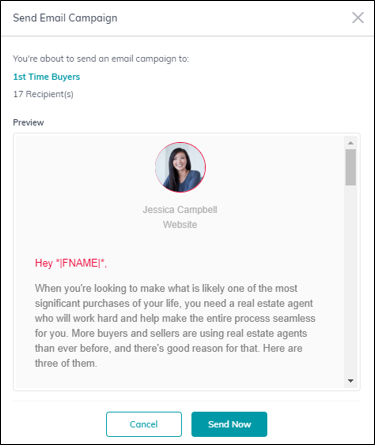 14. You can view all of your email campaigns in the Emails tab of Campaigns.