When using the Command Import Template, you will need to take the contacts from an exported spreadsheet and manually move them to the blank Command template. To learn how transfer the contacts from spreadsheet to spreadsheet, follow the steps below:
1. Open the two spreadsheets side-by-side.
2. On your export file, select the cell of the first contact (not the column title).
3. Scroll to the cell of the last contact in the same column.
4. While holding the Shift key, on your keyboard, select the last cell in that same column. This will select every cell in that column.
5. Copy the selected cells.
6. On the Command Contact Import Template, select the first empty cell, in the corresponding column.
7. Click to paste.
This will transfer the information from that column, into the Command Contact Import Template. Follow these steps to transfer every column of information you have, into the the blank template.
If you are entering a Postal Code that begins with Zero, you must format the cells to display as text fields (Excel and Numbers will take out the first zero otherwise):
Excel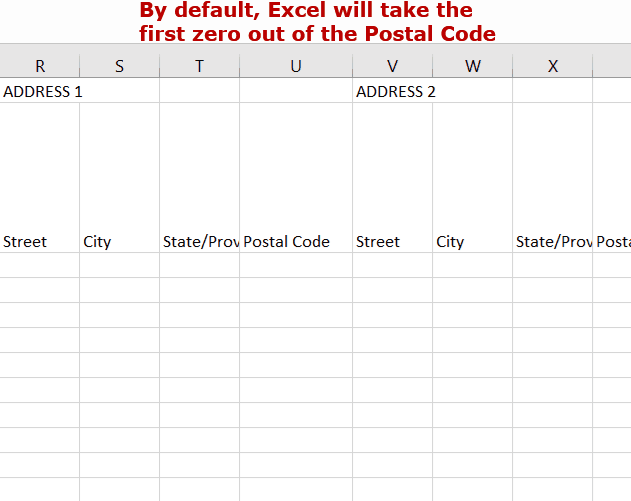 Numbers
If you are using Numbers, click here to learn how to do this, make sure to choose the
8. Fill in any additional information you have, then save the Import Template as a .CSV file type, where you know you will be able to find it later.