What is an email alias?
An email alias is a secondary email address that automatically forwards all mail to your primary email account. This is not a new email account, but a second address that forwards mail to your main account.

What can an email alias do?
You will receive emails that are sent to your email alias. You can also "send mail as" your email alias, but you have to set this up in the "Settings" for your primary email account.
For the steps to set up "send mail as" for your email alias, click here.

What can't an email alias do?
You cannot log in to Gmail with your email alias. All of the functionality and settings for this alias address are managed within your primary email account.

How do I receive email from my email alias?
This is automatic. Once the alias is approved by KW, you will find future email messages sent to the email alias within your existing Google inbox.
How many email aliases can I have at once?
You can have up to 5 email aliases at one time.
Create your email alias:
1. Log in to mykw.kw.com with your KW login credentials.

2. ​Hover over "Technology" at the top of the page and choose KW Email from the drop-down.

3. Click the Manage Your KW Email link.

4. Click the link labeled Click here to request a new email alias.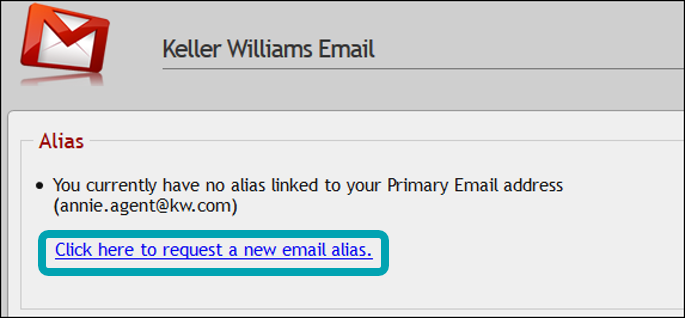 5. Using the drop-down, select the primary email account you want to attach the new alias to. Enter the part of the alias that comes before the @ sign in the "New Alias" field, the rest will be auto-filled. Click Submit Request when you are ready to create your email alias.

The address must be a minimum of 4 characters. (This name should be easily associated with your name so that clients can better recall your email address. For agent Jane Doe, janedoe@kw.com would be a good choice.) Your address can be up to 16 characters long. Addresses may only consist of letters, numbers, hyphens, periods, and underscores. No spaces, commas, quotation marks, or other characters. Also, we will not approve a KW email address using any of the following:


KWRI
KLRW
KWRG
KWMC
agent
realty
realestate
realtor
culture
kwcares (or similar)
kwconnect (or similar)
keller (unless the first or last name of the associate is Keller)
MREA
MREI
millionaire
KW (before the @ sign)
frontdesk
director
dofi
customer
service(s)
copier
printer
assistant
compliance
client
mca
teamlead (TL)
operating principal (OP)
broker
admin
kpa
luxury
commercial

Please be aware that you will not receive a direct confirmation from KW advising that your request was approved or denied. Emails are usually approved after 1 business day.​
As soon as the email alias is approved, it will start forwarding incoming mail to your primary email account.