Neighborhoods are a big focus in Command and across Keller Cloud. You can now select your client's favorite neighborhood—or even a few—in Contacts, which will allow you to send them personalized Neighborhood Snapshots or even add them to a Monthly or Bi-weekly Neighborhood Nurture Smart Plan.
To add a neighborhood to a contact:

1. Log in to https://agent.kw.com with your KW login credentials.

2. Click the Contacts icon,

, on the left side of the page to access your contact list.

3. Click on the name of the contact that you want to add to a neighborhood to.

4. Scroll to the "Neighborhoods" section and click Add Neighborhood, then click View Map.
5. Search for an address or specific road, to focus in on an area, click the neighborhood on the map, which will select it, then click Save when you are ready (you can add multiple neighborhoods to a contact in this way).

6. Once you add a neighborhood to a contact, Command creates an automatic neighborhood landing page, specific to this contact. To the left of the list of added neighborhoods, click Copy Link, to copy the link to this landing page for you to share with your contact.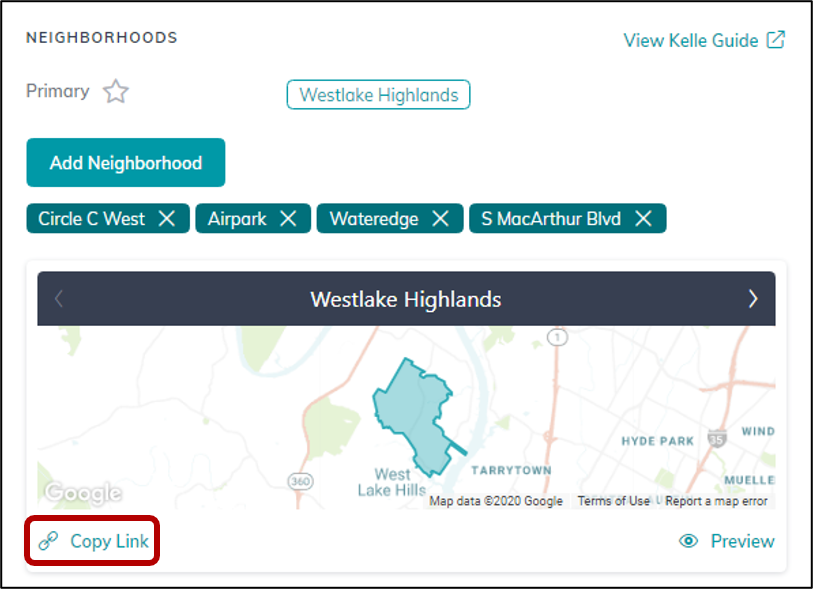 After you share this landing page with your contact, they have the ability to add neighborhoods to this list, from the landing page. Neighborhoods that your contacts adds will appear without color, while the neighborhoods you add will be filled in with color, so you will know who added specific neighborhoods.