The klrwxxx@kw.com email address that each Market Center has available to them, mainly used by MCAs, will not have the options shown below.
These are specially provisioned email addresses, not owned by any one associate, but by the Market Center itself. Because of that, there is a block on sending emails from these accounts to a personal email.
Setting up IMAP using the instructions below will pull your emails from your @KW.com account into another Gmail account, or an app like Apple Mail or Outlook.
If you want to send emails from another email account into your @KW.com Gmail, then use the same steps but but reverse the email addresses referenced in the article (when it says "log into your @KW.com email," put the other email instead and vice versa).
In order to set up IMAP for your @KW.com email, please follow the steps below.


Enable IMAP for your @KW.com Account
1. Log in to your @KW.com Gmail account.

2. In the top right, click on the Settings (gear shape) icon and then choose See All Settings from the quick settings panel.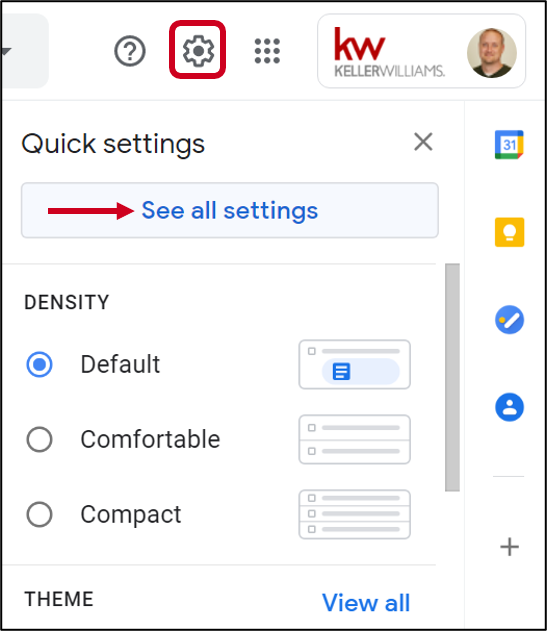 3. Click the Forwarding and POP/IMAP tab at the top of the Settings page.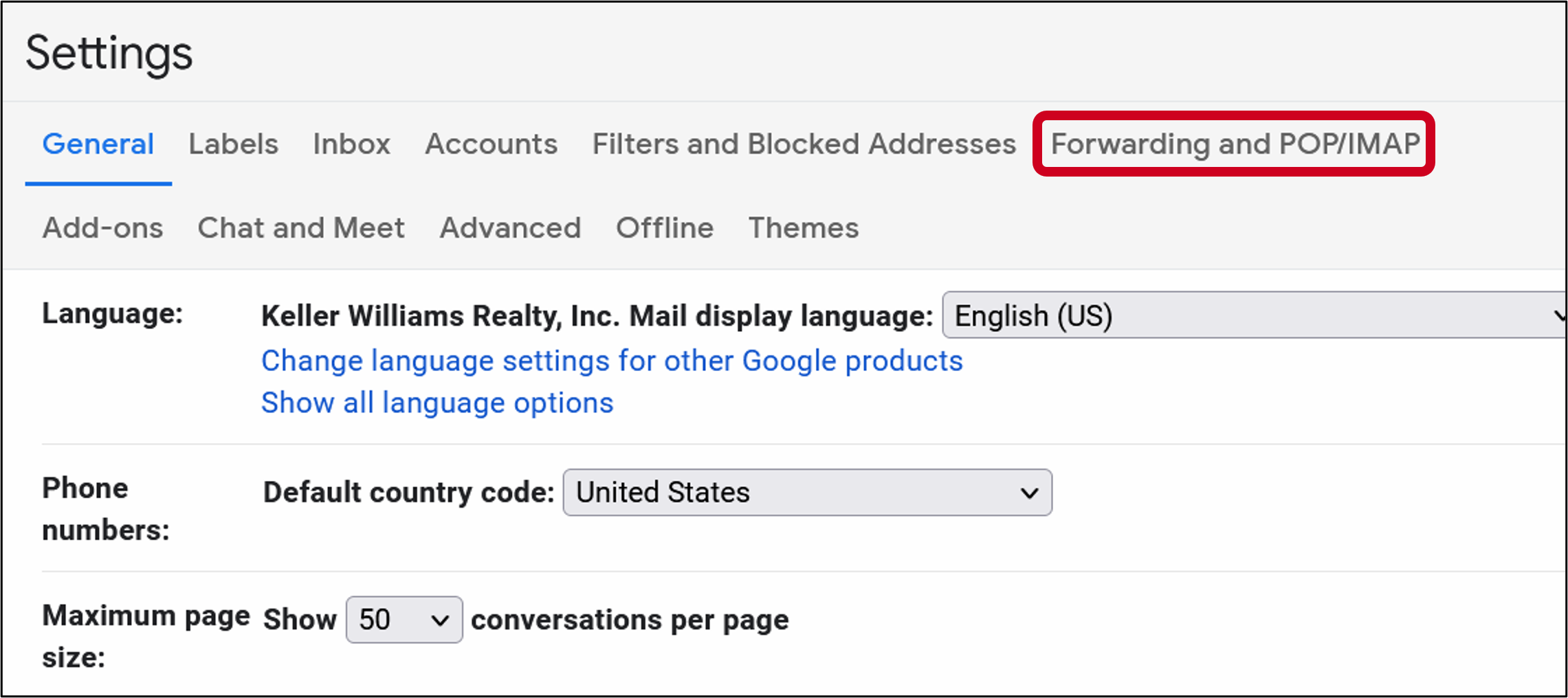 4. Scroll down to the "IMAP Access" section, and select Enable IMAP.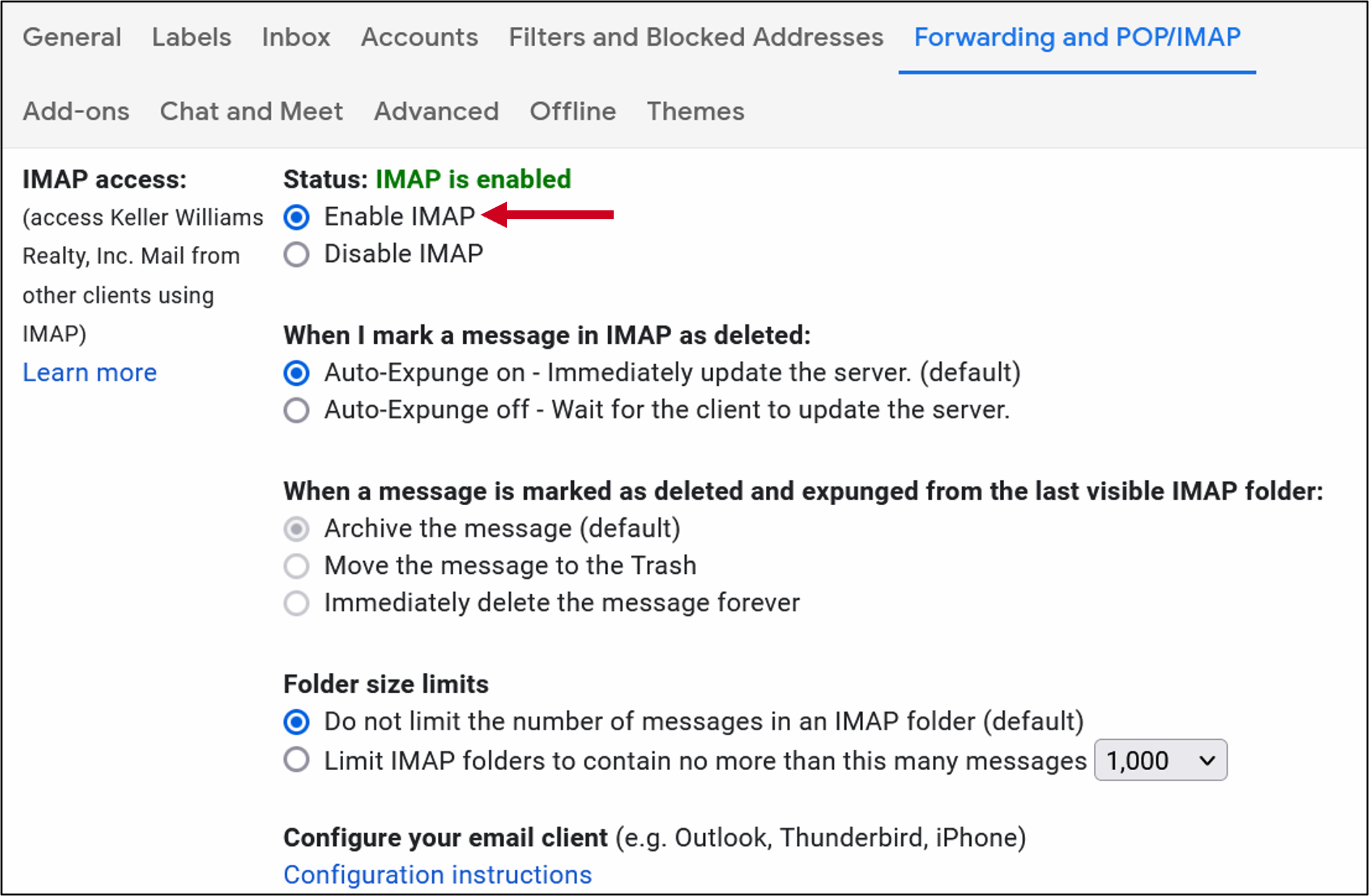 5. For the "When I mark a message in IMAP as deleted" setting, choose an Auto-Expunge option:
Auto-Expunge on - auto sync the original Gmail folder every time you mark an email as deleted, in the account you work in on a regular basis. This is the default and recommended setting.



Auto-Expunge off - causes the original Gmail folder to operate like a traditional IMAP account and will wait for the "expunge" command to delete messages. If you're concerned about accidentally deleting something and want the possibility of retrieving it later, you might choose to turn Auto-Expunge off. Then you'll have three options of what to do with items that have been marked as deleted. Choose to archive the message (default), move the message to the trash, or immediately delete the message forever.


6. Set folder size limits for the receiving folder. This will determine how many emails will display, at any one time, in the receiving folder, reducing the load times and making the receiving email account run much smoother. If you need to access an older email that no longer displays in the receiving account, you can access the original email account to find it.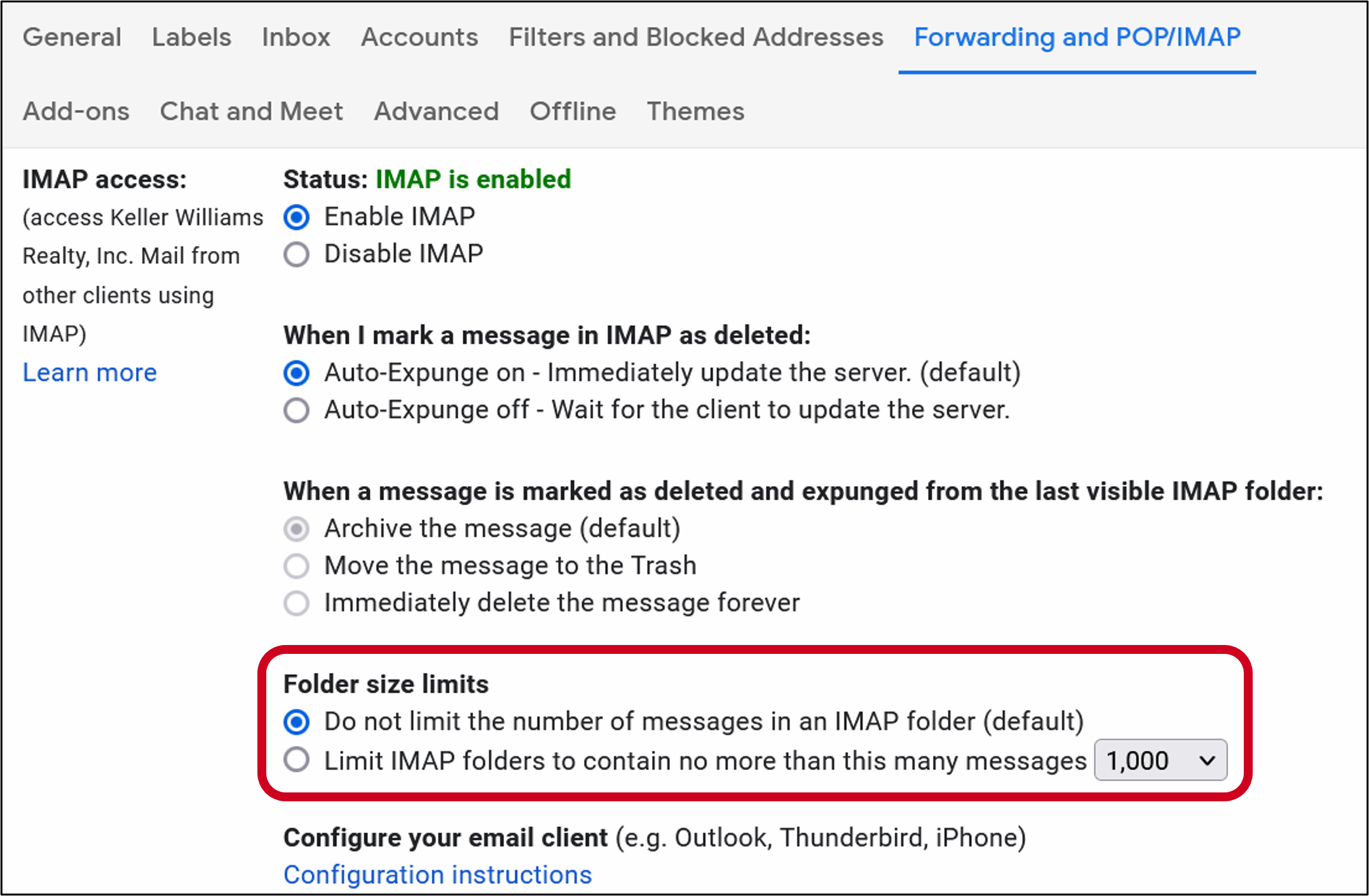 Generate an App-Specific Password (if you are connecting to Outlook or Apple Mail, etc.)
Next, we will need to allow other applications access to your @KW.com account by creating an app password. Keep in mind, App Passwords can only be used with accounts that have 2-Step Verification turned on.


1. Log in to https://myaccount.google.com/ with your @KW.com Gmail login.

2. On the left side of the page, select Security.

3. In the Signing in to Google section, click App Passwords.

4. If Google might prompt you to sign in a second time for security purposes. Click Select App and choose the app you using, then click Select Device and select the type of device you will be setting this up on. These are just labels and won't have any impact when setting up your app.
If you select the Other (Custom Name) option when selecting the app, you won't need to select a device. These are just labels and won't have any impact when setting up your app.

5. Click Generate when ready.

6. The App Password is the 16-character code in the yellow bar. You will add this password to the app you are setting up, instead of your normal Gmail login. Click Done when you are finished.
There is no way to go back and view this password, so make sure you copy it or use it before closing.
Set Up the Receiving Account (if you are syncing to another Gmail account)

1. Log in to the Gmail account that you want emails to be sent to.

2. In the top right, click on the Settings (gear shape) icon and then choose See All Settings from the quick settings panel.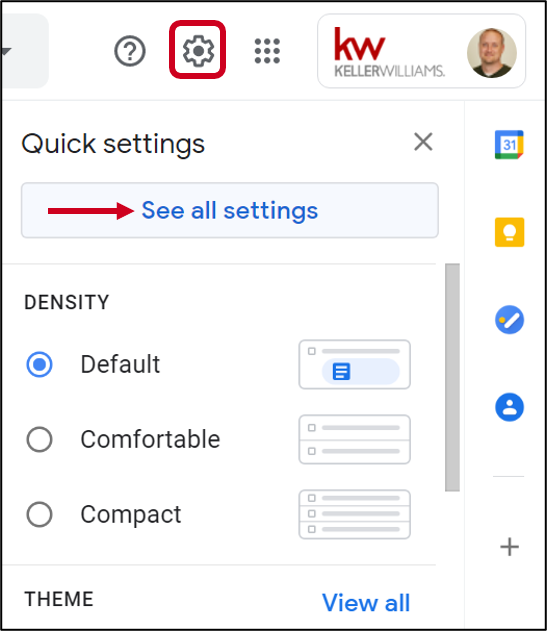 3. Click the Accounts tab.


4. In the "Check mail from other accounts" section, click the Add a Mail Account link.

5. Enter the @KW.com email account.

6. Complete the form.
Enter the password.

* Note if you have Two Step Verification enabled in your @KW.com account, you'll need to enter a new app password. Click here to learn more.

Use these server settings: imap.gmail.com and Port: 995.
Now you have a few options to choose from. Here are the recommended settings.

Leave a copy of retrieved messages on the server - Leave unchecked. This setting is controlled in the POP settings of your other account.
Always use a secure connection (SSL) when retrieving mail - Keep checked.
Label incoming messages - Check the box if you'd like to easily see which emails in your inbox came from this account.
Archive incoming messages - Leave unchecked. Only check if you don't want to see new messages from the other account in your inbox.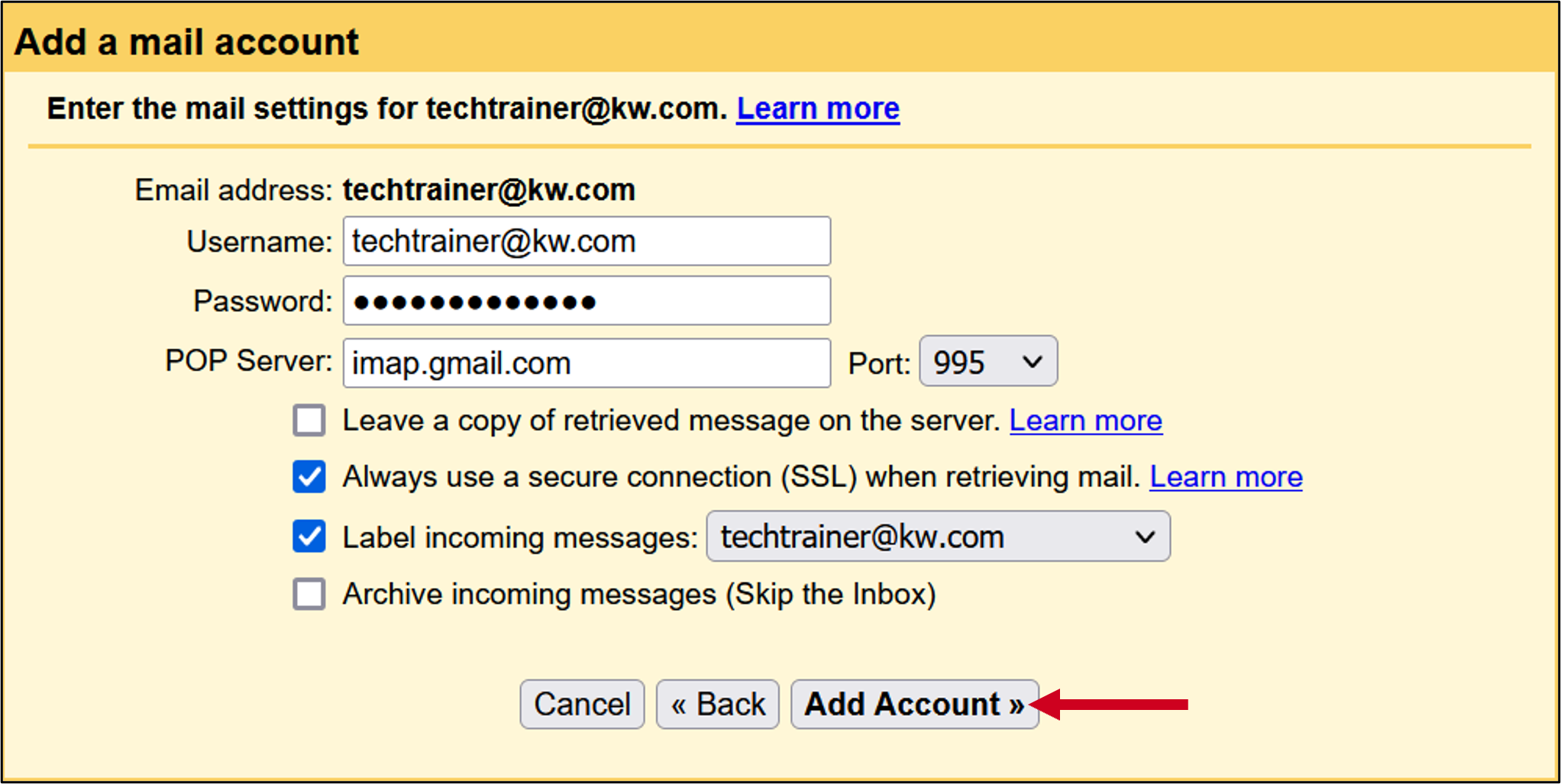 7. Click Add Account. If you get an error message while getting set up, click the Show Error Details link to find out more about what's not working.

If you are having issues getting it to work, you may need to try different server numbers or settings. Please contact KW Tech Support for help.

8. If the account is added successfully, the system will ask if you want to enable the ability to be able to send mail as the original email address, in the receiving account. Choose an option, then click Add Account.

Send Mail As
1. If you chose to be able to send mail as, enter the display name for this "Send Mail As" option. Click Next.


2. Now you need to verify that you own the original email account. Click Send Verification, find the email they send, in the original account, then follow the instructions provided.