The klrwxxx@kw.com email address that each Market Center has available to them, mainly used by MCAs, will not have the options shown below.

These are specially provisioned email addresses, not owned by any one associate, but by the Market Center itself. Because of that, there is a block on sending emails from these accounts to a personal email.
In order to set up POP for your @KW.com email, please follow the steps below. Remember, setting up POP will pull your emails from your @KW.com account into another email account.


Enable POP for your @KW.com Account
1. Log in to your @KW.com gmail account.

2. In the top right, click on the Settings (gear shape) icon and choose Settings from the drop-down.

3. Click the Forwarding and POP/IMAP tab at the top of the Settings page.

4. On the "Forwarding and POP/IMAP" page, scroll down to the "POP Download" section, and click the dial labeled "Enable POP for All Mail (even mail that's already been downloaded)."
*Note: You can choose to "Enable POP for mail that arrives from now on" but that will not move existing mail to your other server.

*Note: For your @KW.com account, you can also choose what you want to do with the copy of the incoming mail for that account: keep, mark as read, archive, or delete.


Next, we will need to allow other applications access to your @KW.com account by turning on the "Allow Less Secure Apps" setting:
1. Login to https://myaccount.google.com/lesssecureapps with your @KW.com gmail login.

2. Ensure that the setting is turned on.

This will not work if the Allow Less Secure Apps setting is turned off, in the email address you are connecting this account to.

Now that POP is turned on and you have allowed "less secure" apps to access your mail, you will need to set up the connection.

Set Up the Receiving Account

1. Log in to your other Gmail account, the account you want your emails to move to.

2. In the top right, click on the Settings (gear shape) icon and choose Settings from the drop-down.

3. Click the Accounts tab.

4. In the "Check mail from other accounts" section, click the Add a Mail Account link.

5. Enter the @KW.com email account.

6. Complete the form.
Enter the password.

* Note if you have Two Step Verification enabled in your @KW.com account, you'll need to enter a new app password. Click here to learn more.

Leave the default settings for POP Server: pop.gmail.com and Port: 995.
Now you have a few options to choose from. Here are the recommended settings.

Leave a copy of retrieved messages on the server - Leave unchecked. This setting is controlled in the POP settings of your other account.
Always use a secure connection (SSL) when retrieving mail - Keep checked.
Label incoming messages - Check the box if you'd like to easily see which emails in your inbox came from this account.
Archive incoming messages - Leave unchecked. Only check if you don't want to see new messages from the other account in your inbox.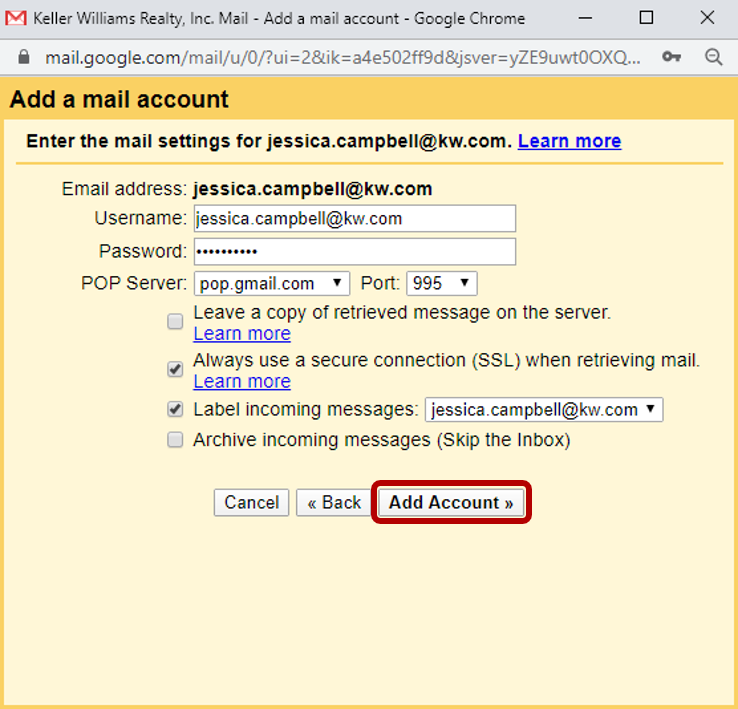 9. Click Add Account. If you get an error message while getting set up, click the Show Error Details link to find out more about what's not working.

If the account is added successfully, then mail from the @KW.com account will pull into the other Gmail account.

If you are having issues getting it to work, you may need to try different server numbers or settings. Please contact KW Tech Support for help.