As agents are creating Opportunities and managing their transactions in Command, they will need to upload documents for compliance approval. Before they can do this, the Market Center must add all of the documents that are needed.
Things to consider when creating your checklists:
The system does not allow additional, one-off items to be added to the checklist within an individual Opportunity. If there is a document that will be used only occasionally, add it to the compliance checklist and make it conditionally required or optional.


Documents must be attached to a checklist item to be added to the opportunity within the 3 compliance events (Listing, Under Contract, Closed). Consider all the different documents that are needed for a transaction and ensure all documents have a checklist item. You may want to add a category for amendments, however consider being specific when you do such as Price Change Amendments, Listing Extensions, Contract Closing Extensions, Termination Amendment. By keeping each amendment type separate you will be able to see the history of those amendments easier.   

Note: Don't forget the items the market center may upload during the closing process as well, such as the Distribution Authorization (see rule 2 above).


The checklist order will be the default order that you will see within the opportunity. Consider both the order in which you wish to view during compliance as well as the chronological order of when they would be completed so your Agents can work their way down the list. 


There are custom folders, separate from the actual checklist. These are intended to be used for documentation outside the compliance process such as email correspondence with the client, photos, unaccepted offer forms, or anything else an agent wants to keep a record of.
To create your checklists , follow the steps below:
1. Log in to https://agent.kw.com with your KW login credentials.
2. Click your name, at the top right of the page, and choose Settings from the drop-down.
3. On the left side of the page, click CloudMORE Settings, then click Compliance.
4. Select your Market Center from the drop-down, then select the Opportunity Type.
 

 

Each Opportunity type has a separate compliance checklist that must be created and edited separately.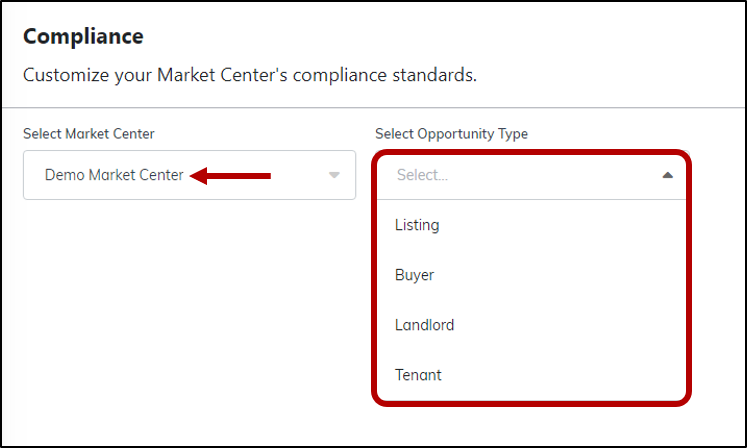 5. The compliance checklist for that Opportunity type will appear. In the Stage you want to add the document to, click + Add Document.
6. Complete the form:
Enter the Document Name (required).
Select the Document Type (required)from the drop-down list (required).
Choose the Requirement level (required):

Required

- agents will have to add this document for compliance approval.

Conditionally Required

- this will unlock the Condition field, where you will enter the conditions that will make this document required.

Optional

- agents will have the option of adding this document, but it will not be required.

Add a Note, which agents will see when they are adding this document on their end.
Click to Attach an Example Document, for agents to reference.
7. Click Add Document.