1. Log in to https://agent.kw.com with your KW login credentials.
2. At the top of the page, click Command MC.
3. Click the Opportunities icon,

​, on the left sidebar.
4. At the top of the page, click Compliance Requests.
5. Find the compliance request in the list, then click Review.
6. On the left side of the page, select the compliance event that holds the submitted documents, then click Review All Documents.
7. Review the document. At the top of the page, click either Approve Document or Reject Document.
Approved
If you approved the document, click the arrow, on the right side of the page, to move on to the next document.
Rejected
If you rejected the document, a pop-up will appear. You must enter a reason for rejecting the document, then click Reject Document.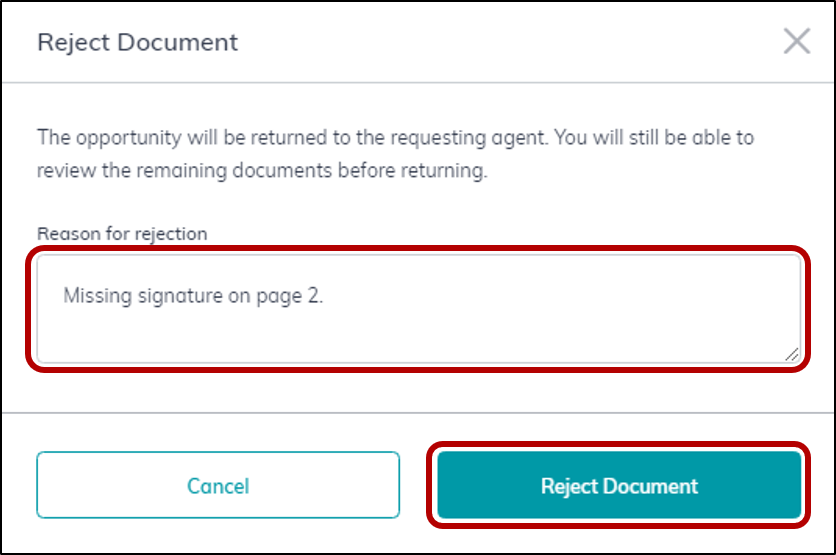 The agent will then see the Rejected status on this document, where they can hover over the rejection comment icon,

, to find out why it was rejected. They will then have to resubmit a new version of this document.

Once they resubmit the new version of the document, it will appear with the Replaced status in CloudMORE. You can then repeat the approval process until all of the documents, in every compliance event (Listed, Under Contract, and Closed), are in the Approved status.

Compliance Event Status
8. Once you approve and/or reject submitted documents, use the Status drop-down, at the top right of the page, and set the status for the Compliance Event (i.e. Listed, Under Contract, Closed, ect.).
This will display on the left side of the page, next to the Compliance Event, where the agent will clearly be able to see where they are at with their submitted documents.