Before your agents can start using DocuSign with Command, the Market Center must create the Market Center admin account. This admin account will have access to every Room that is created by agents in the Market Center and is where the Market Center will create Form Groups, to organize documents that are in the Forms Library.
Once this account is created, you will then be able to turn on the DocuSign connection for your agents in Command Settings.
Click here

to learn how to enable DocuSign for agents in your Market Center, once your Market Center DocuSign account is created.
To learn how to create and connect your Market Center DocuSign admin account, follow the steps below
1. Log in to http://agent.kw.com with your Keller Williams login credentials.

2. Click your name, at the top right of the page, and choose Settings from the drop-down.

3. On the left side of the screen, click CommandMC Settings, then select DocuSign Settings from the drop-down.

4. Select your Market Center using the drop-down provided, then click the Connect Market Center button.

5. A pop-up will appear with your Market Center's klrwxxx@kw.com email address populated, click Send Registration Email.
| | | |
| --- | --- | --- |
| | It is not possible to use any other email address for your Market Center's DocuSign account. This will be the email address that you will use to login to this DocuSign account and where all DocuSign email communication for this account will be sent. | |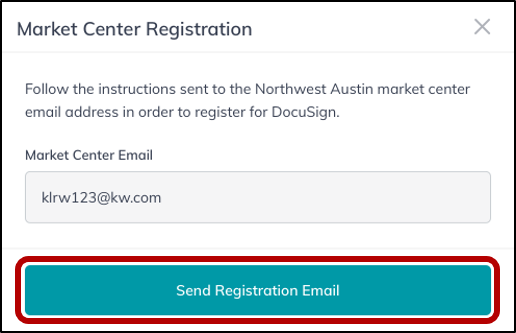 6. A DocuSign invitation email will be sent to this email address. Find and open the email, then click Accept Invite.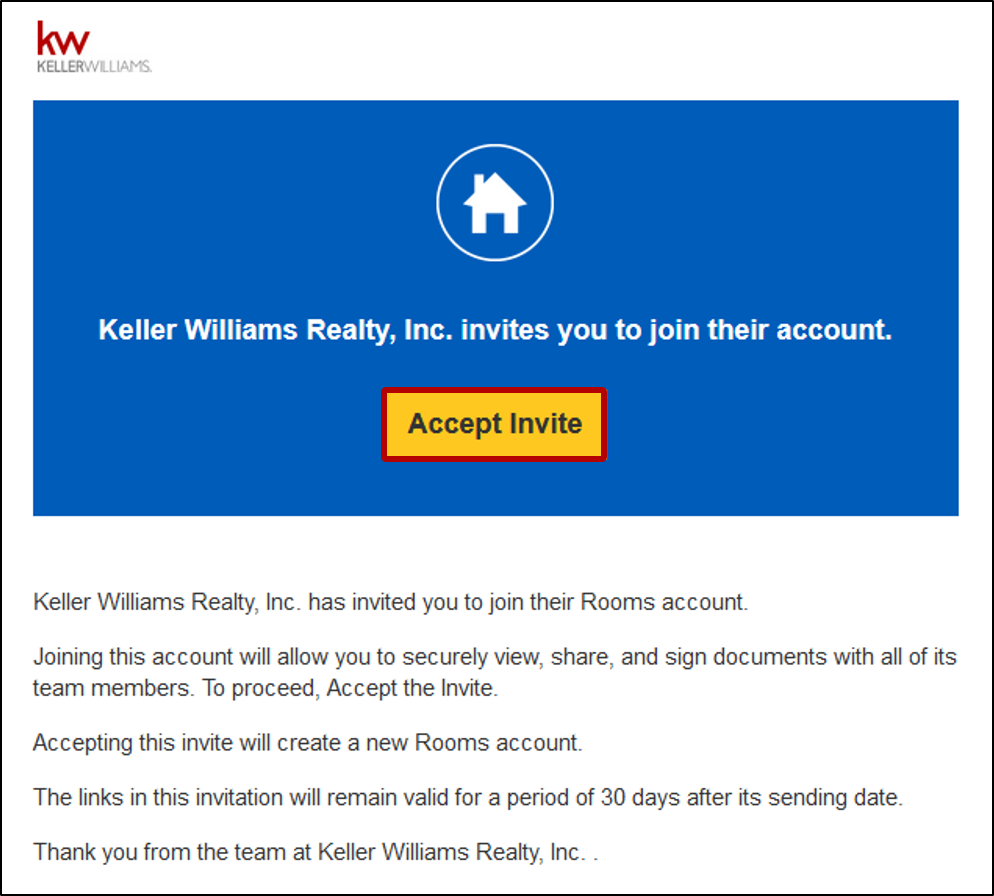 7. First, DocuSign will have you choose the password you will use for your DocuSign account, then choose a password recovery validation question and answer. Click Activate.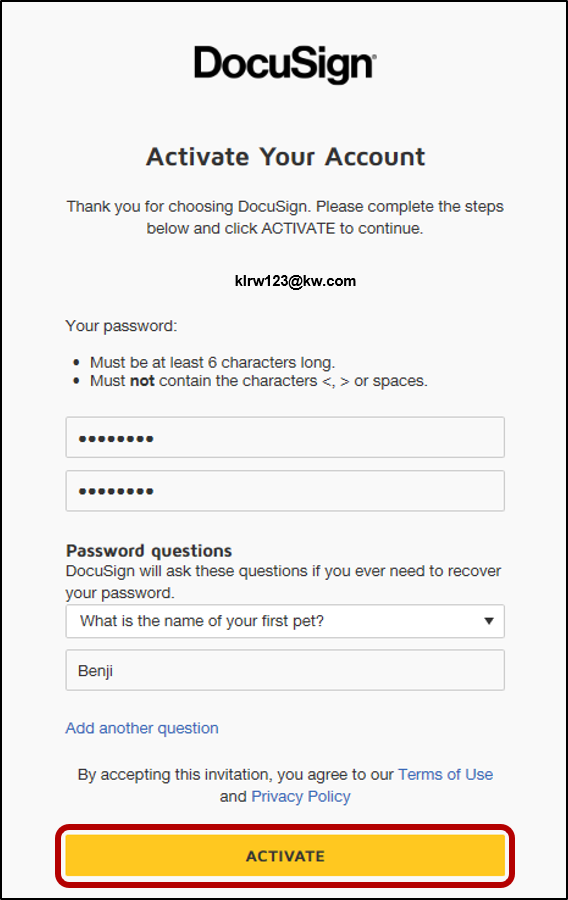 8. Next, click the DocuSign Customer Agreement link, to review the terms and conditions around your new DocuSign account. Click Accept Agreement, once you have reviewed the customer agreement.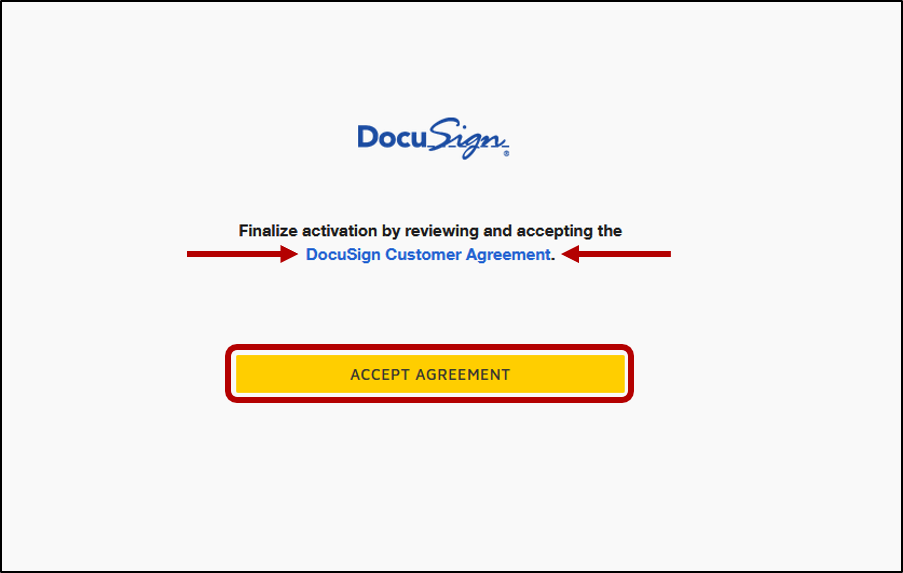 9. Now that the account has been created, we need to connect it to Command. In the DocuSign Settings section of Command, click Sign In.

10. Enter the DocuSign password you created on step 7, then click Log In.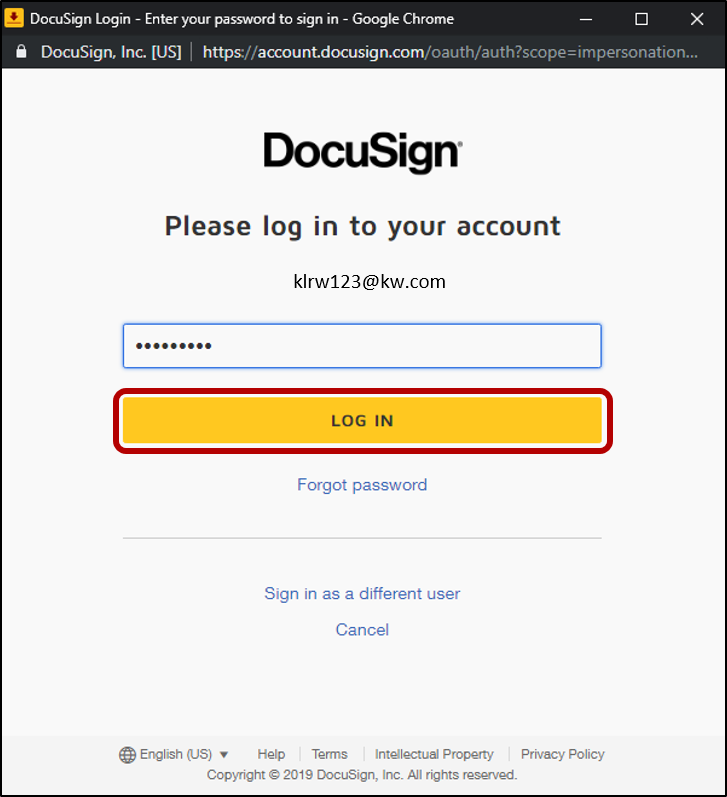 11. Finally, give Command permission to connect to your new DocuSign account. Click Accept.