Within Command, we are replacing the Greensheet process with the new Commissions section in an Opportunity, where agents will detail the commission disbursement for a transaction and submit this to your Market Center.
To learn how to review, accept, and return a Commission request, follow the steps below:
1. Log in to https://agent.kw.com with your KW login credentials.
2. At the top of the page, click Command MC.
3. Click the Opportunities icon,

​, on the left sidebar.
4. At the top of the page, click Commission Requests.

5. Find the Commission Request in the list and click Review.
6. Review the Commission Request details. On the right of the page, under the Summary section, click either Approve or Return.
If you approved the Commission Request, the agent will see the approval within the Opportunity, and you can follow follow the procedure to import the Opportunity (Get Opportunity) into WinMORE. To learn how to import an Opportunity into WinMORE, click here.
If you returned the Commission Request, a pop-up will appear. You must enter a reason for returning the Commission Request, then click Return Opportunity.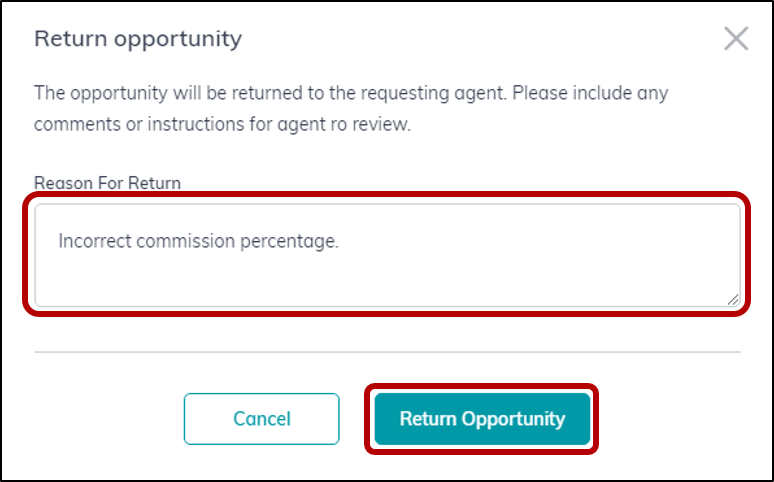 The agent will then see a message in the Opportunity, letting them know you returned their Commission Request and the reasons.
They will then need to resubmit the updated Commission Request, and you can repeat the process until you approve the request.