Whether you are using DocuSign, Dotloop, or another process to manage your forms and get signatures, you will use Command to upload and submit compliance documents to your Market Center for approval.
Click here

to see a video walk through of the compliance process.

Click here

to learn how to submit compliance documents to your Market Center.
To learn how to add compliance documents to an Opportunity, follow the steps below:
1. Log in to https://agent.kw.com with your Keller Williams login credentials.
2. Click the Opportunities icon,

​, on the left sidebar.
3. From the Opportunities Dashboard, click on the phase, where your Opportunity is located, then click on the Opportunity Title.
4. Click Documents, at the top of the page.
5. On the left side of the page, use the Checklist Type drop-down to select the type of checklist you will be adding documents for.
6. Next, choose the compliance event (Listed, Under Contract, Closed) where the document will be added.

7. Find the document on the checklist and click + Add a file.

8. In the Source of Documents section, choose to pull in the document from your computer (Manual), your connected DocuSign account or your connected Dotloop account:
If you choose

Manual

, click to browse your computer for the file, or drag the file into the space provided.
If you choose to pull from

DocuSign

or

Dotloop

, you will see a list of documents you have in the corresponding DocuSign Room or Dotloop Loop. Select the corresponding file.
Keep in mind, if you are going to pull documents from Dotloop or DocuSign that you must have that system connected in Command and connected to this Opportunity (either you have imported the Loop from Dotloop to create the Opportunity, or you have created the Loop or Room from within the Opportunity). Once you create a Loop or a Room from this Opportunity, you will be locked in to that platform and won't be able to switch where you are pulling documents from.

Click here

to learn how to import your Loops from Dotloop.
Click here to learn how to create and connect your DocuSign account.

Click here

to learn how to create a DocuSign Room for an Opportunity.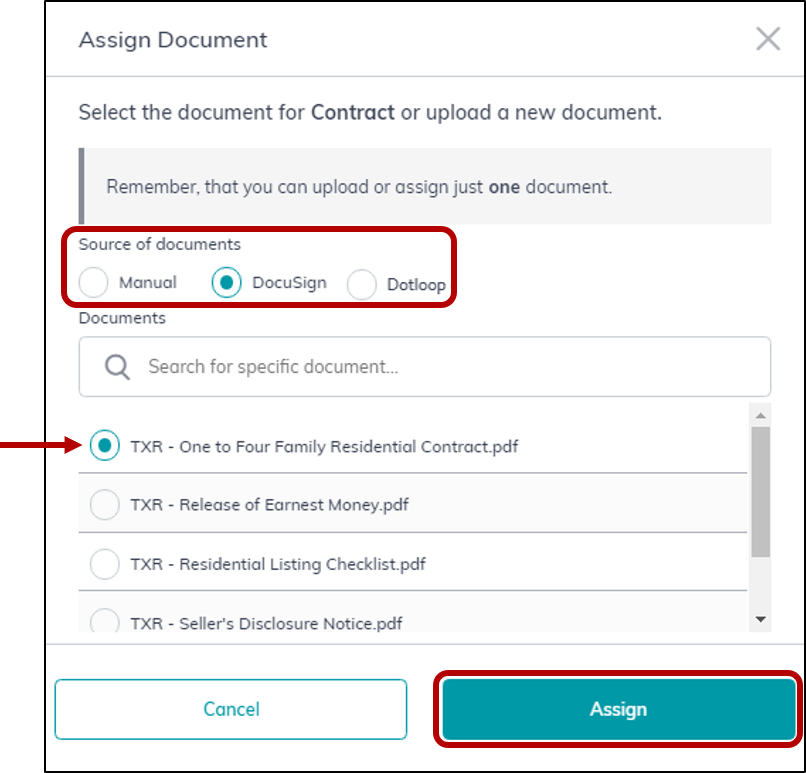 9. Click Assign, once it has been added.
Once you have added a document, you can click the three dots, to the right of the file name, to either remove the file or print the document you added.
| | | |
| --- | --- | --- |
| | Once you have submitted the checklist, you will no longer be able to remove the document, only replace, which is then logged in the compliance history for this Opportunity. | |