When working with Opportunities, when you are on a team, you have to be very purposeful about the pipeline you are working in. When you are on a team, you have a team pipeline and an individual pipeline. These pipelines are totally separate from each other, and there is no way to transfer an Opportunity to the other pipeline, once it is created.
When an Opportunity is attached to the team pipeline, the team Rainmaker is always the Opportunity owner and you have the ability to assign as many team members to the Opportunity as needed. Each team member assigned to the Opportunity has the ability to view and edit the details. If a team member creates an Opportunity on their individual pipeline (does not select the team when creating the Opportunity), then the Rainmaker will have no visibility into the Opportunity, and team members will not be able to do anything in Command to assist.
Because of this, Rainmakers have the ability to turn off their member agents' personal pipelines, to ensure all Opportunities fall under the sphere of the team:


1. Log in to https://agent.kw.com with your Keller Williams login credentials.


2. Click your name, at the top right of the page, and choose Settings from the drop-down.

3. On the left side of the page click the Command Settings drop-down, click Opportunity Settings, and select Team Permissions.

4. Select one of the options:
Yes - All team Members can create private Opportunities within your Market Center.
No - No team members can create private Opportunities within your Market Center.
Select agents - Enable permissions by team member. Check the box next to each team member that you want to have the ability to create personal pipelines.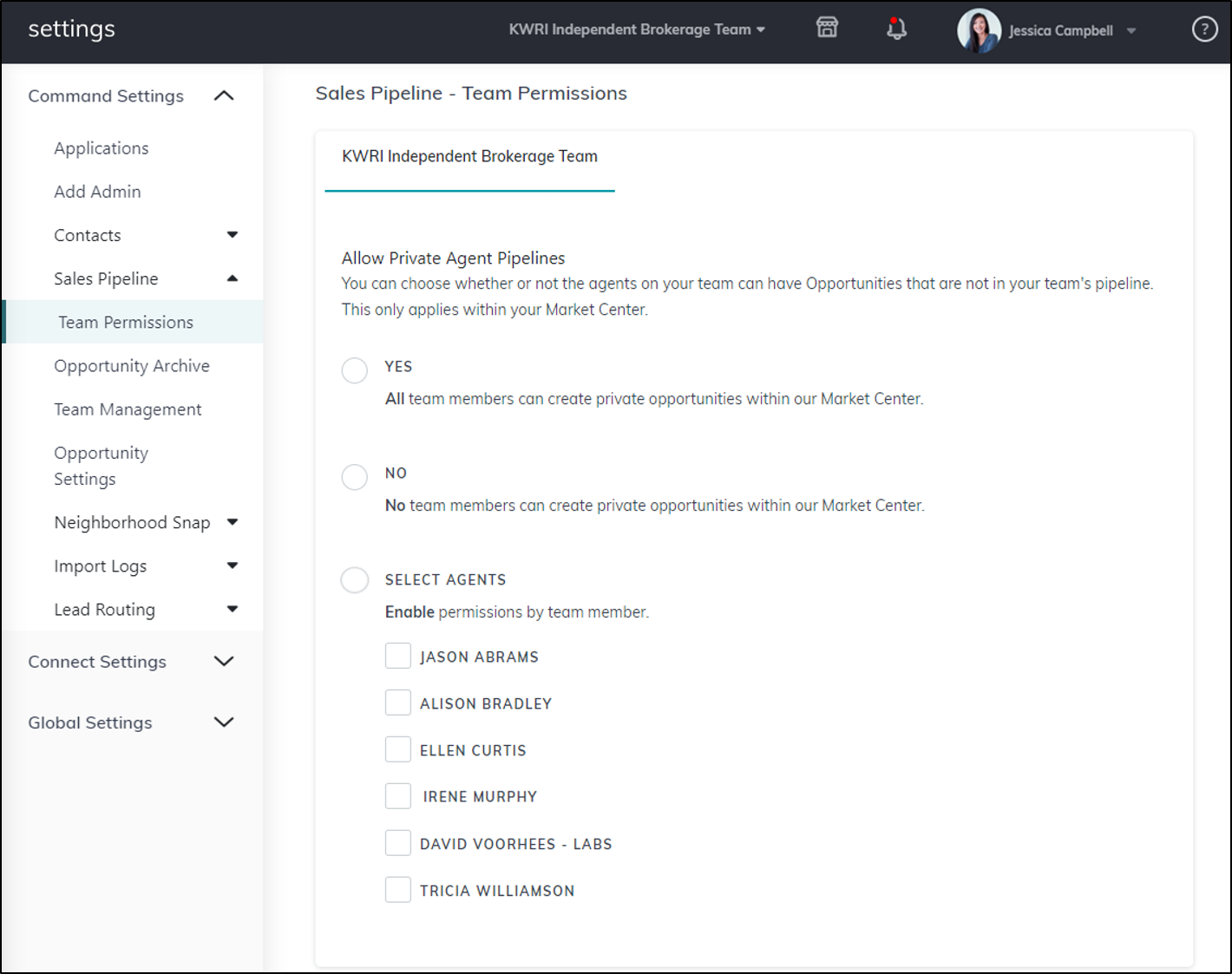 Once these permissions are set, they will take effect immediately.