Compliance functionality in Command is now ready! Whether you are going to use DocuSign, Dotloop, or another method to manage your documents and get forms signed, you can now use Command to add completed documents to the compliance checklist and submit these forms for approval. The first step in this process is to get your Dotloop Loops in to Command. You will need to complete this step even if you are going to continue to use Dotloop for e-signature purposes.
Command now includes an easy way for you to import (copy) your Loops into Command as Opportunities. This process will help you seamlessly migrate your active Loops to Command, connect them to your existing Command contact records or automatically create new contact records, add missing information, and review your data for accuracy. Once your Loops have been copied over, you will be able to move your Opportunities from phase to phase and complete your compliance checklists in Command.
1. Log in to https://agent.kw.com with your Keller Williams login credentials.
2. Click the Opportunities icon,

​, on the left sidebar.
3. This functionality is releasing at a different time for each Market Center. You will know you have the ability to import your Loops when you will see a banner at the top of the Opportunities Dashboard. Click Import From Dotloop.
4. A Dotloop login pop-up will appear. Enter your Dotloop login credentials and click Sign In.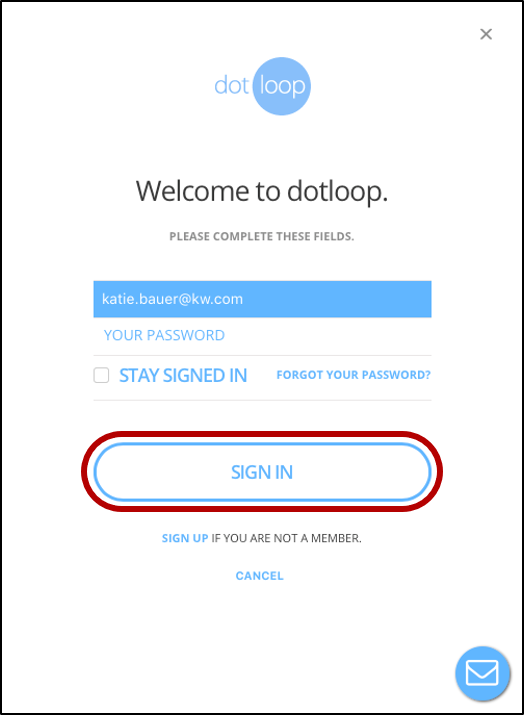 5. A verification will appear. Click Accept.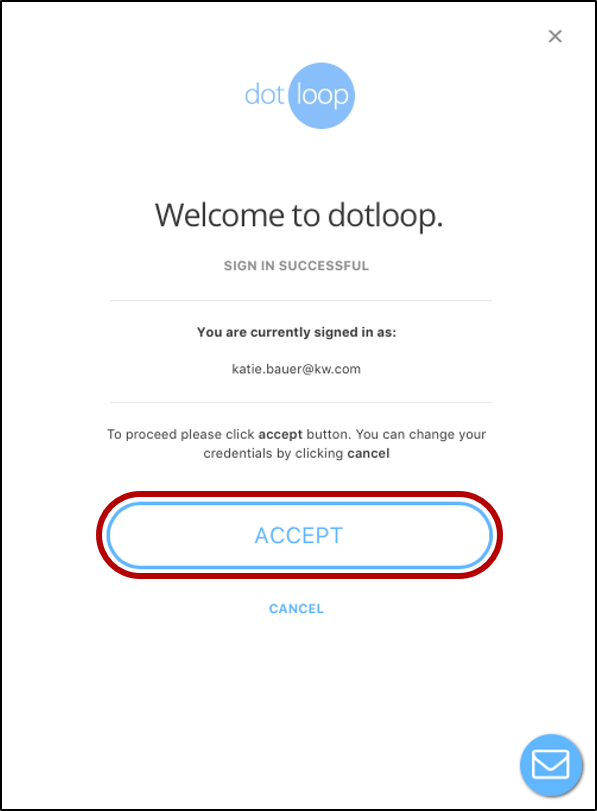 6. At the top right of the Opportunities Dashboard, click Import.
7. An Import Loops pop-up will appear. On the left, select the Dotloop profile you want to pull in Loops from, then on the right, select the Command pipeline (personal or team pipeline) you want to create Opportunities for. Click Continue.
Be purposeful about the Command Opportunity pipeline you choose. Whichever pipeline you select will be where the new Opportunities will be created. You will not be able to move these Opportunities to another pipeline, once created, and Rainmakers do not have visibility in to their member agent's personal Opportunity pipelines.

Rainmakers, click here to learn how to turn off personal Opportunity pipelines for your member agents.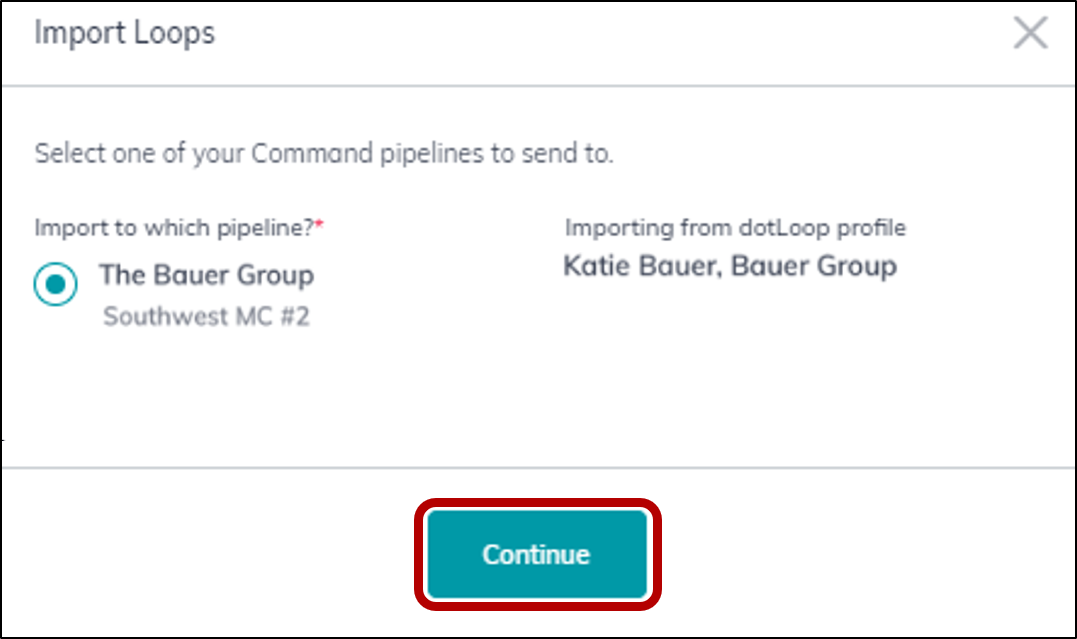 8. Select the Loops you want to pull in to Command. Using the checkbox to the left of the Loop Name, select up to 25 Loops, then click Import Selected.
| | | |
| --- | --- | --- |
| | If you have more than 25 active Loops to pull over, you will be able to repeat this import process. The system will remember the Loops you have already imported. | |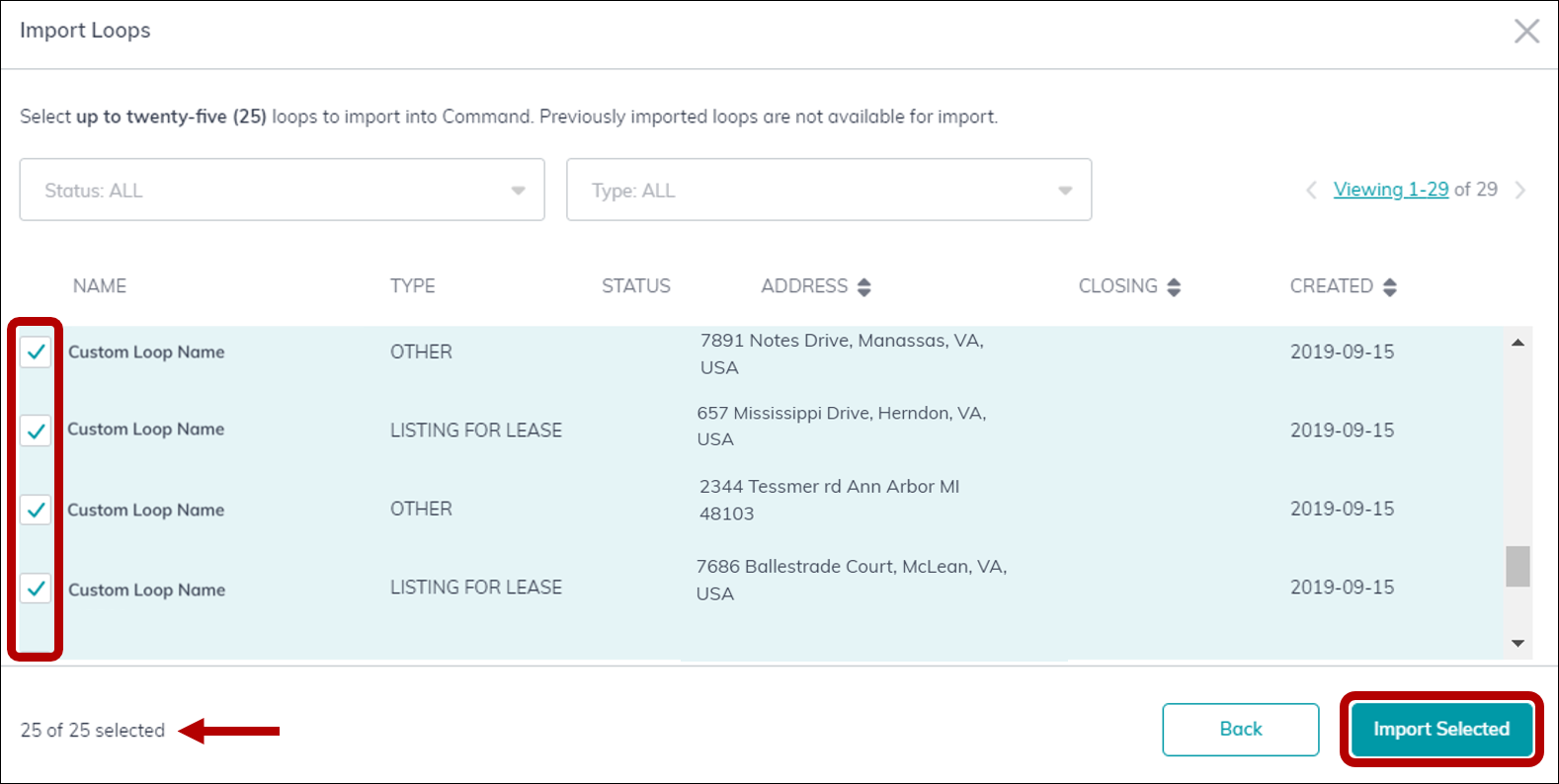 9. Though it is dependent on the system and how many Loops you are importing, it should only take a few minutes to import. You will receive an Import Complete message that will tell you which Loops fully or partially imported. Click Review Now.
| | | |
| --- | --- | --- |
| | You also have the option to Skip Review, but this is not recommended. Every new Opportunity at minimum needs: a contact, a property address, and an Opportunity Type (Listing, Buyer, Landlord, Tenant). Many of your Loops may be missing one of these pieces of information, and might not be imported if you skip the review process. | |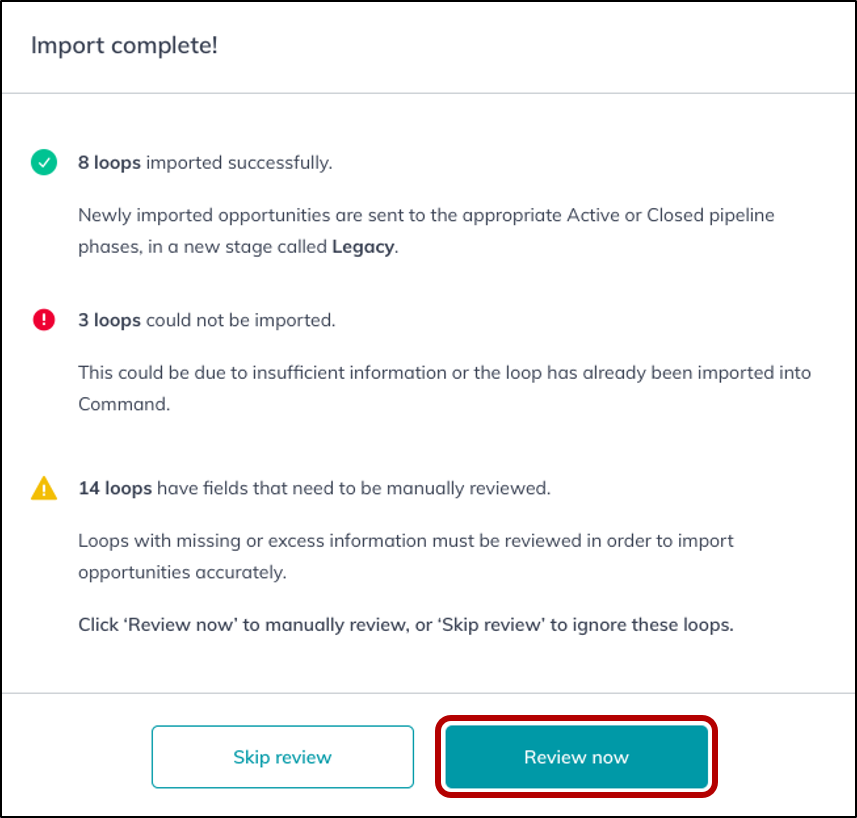 10. The imported Loops will show on the left side of the page, and the system will go through each Loop to have you complete all of the required information the system needs to create the new Opportunity. Once you complete the form, click Save & Continue.
Command takes the contact email from DotLoop and will try to match a contact in Command with the same email address. If the email addresses match, the contacts will merge together. If the email addresses don't match you could possibly get a duplicate contact in Command.

Be mindful of the email addresses in both systems to ensure duplicate contacts are not created.
11. Once you click Save & Continue, the system will open the details for the next Loop, where you can make any updates. Keep going through each Loops until details have been added for all of the selected Loops.
If you have more than 25 active Loops to import into Command, repeat these steps to import 25 Loops at a time, until all Loops have been imported.
Once you have imported your active Loops, you can now add completed compliance documents to your new Opportunities.
Click here

to learn how to add a compliance document to an Opportunity.

Click here

to learn how to submit compliance documents to your Market Center for approval.