If you are missing a form or you just need to add a custom form, you can create an e-signature template that you can send for signatures and completion, using Envelopes in DocuSign. When you create a template, you won't be able to add it to a DocuSign Room, in the Documents section, like you would a form from a form group or library. You will add the template to an Envelope, when you are ready to send forms out for completion and signatures.
Click here

to learn how to create an Envelope in DocuSign.
You can create and use your own custom templates, but agents are not able to share these templates. If there is a template that multiple agents in a Market Center will need to share, have your Market Center leadership create the template in the MC admin account and they will be able to share the template to the entire Market Center.
Click here

to learn how Market Center leadership can share templates and make them available for agents.
With the Keller Williams/DocuSign integration, we are mainly using the Rooms side of DocuSign, but to create templates, we will need to switch to the eSignature section of DocuSign:
Access
1. If you are in DocuSign Rooms (white background), click on your profile picture, at the top right of the page, and select Switch to eSignature from the drop-down (If you see a blue banner at the top of the page, skip to step 2).

2. At the top of the DocuSign eSignature Dashboard, click Templates.
Create
To learn more about templates and how to create them, click here.
Edit
To learn how to edit templates that you have created, click here.
Use Templates
To use templates in the KW version of DocuSign, you will first need to go to a specific Room that is tied to an Opportunity and create an Envelope to send for signatures.

1. On the Envelope Details page, in the Add Documents to the Envelope section, click Use A Template.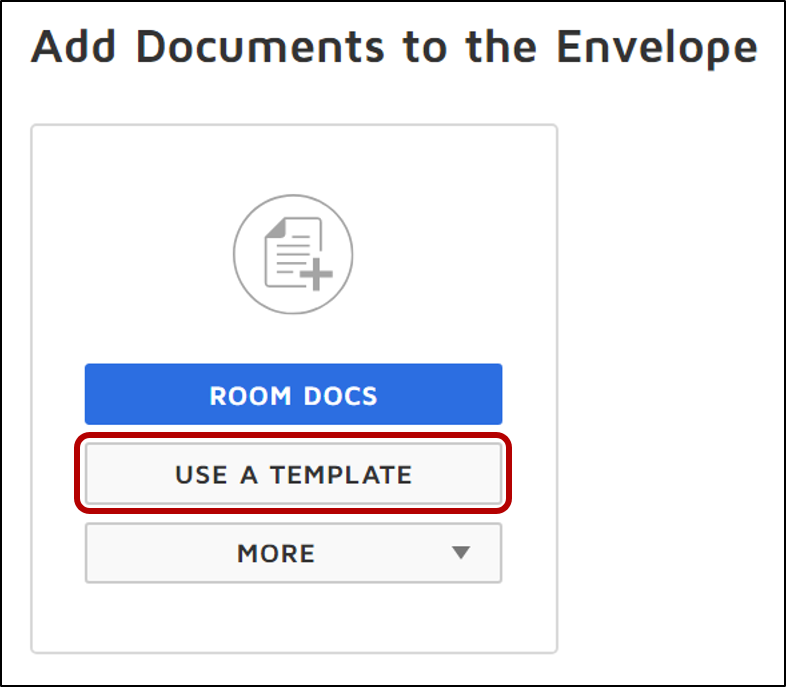 2. In the Select Templates pop-up, select either My Templates (if you created the template) or Shared with Me (if you want to use a template that your Market Center created), on the left side of the page, check the box next to the template you want to use, then click Add Selected.