Command now has goal setting and tracking built in to the Reports Applet. These goals are are based on the MREA Economic Model, and utilize the Contacts and Opportunities applets, in Command, to track activities and production. Whether you are creating your goals for the first time, or editing your existing goals, the new Goal Setting Kelle Guide makes it easier than ever.
To learn how to set or edit your goals in Command, follow the steps below:
1. Log in to http://agent.kw.com, with your KW login credentials.
2. Choose the Reports icon,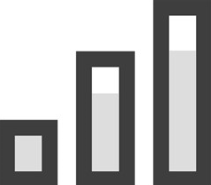 , on the left side of the page.
3. At the top of the page, click Goals.
4. Click + Goals Settings, at the top right of the page.
5. Click Get Started.
6. Use the drop-down to Select the year you are setting goals for.
7. First, set your annual profit goals, then your business makeup or the percentage of listings vs buyer transactions you plan to close. Click Save and Continue.
8. Next, set your conversion rates. Click Save and Continue.
9. Review the goals you entered, then click What's Next, once you are finished.
10. Once you are finished, you can either choose an option on the screen or click the X, at the top right of the page.