As you start creating pages for your Command Agent Site, you will then need to add those pages to your site. You might also need to remove a page from your site or change the position of a page in the site navigation. With Command, you can control all of these things in the Sites applet.
To learn how to customize your agent site navigation, follow the steps below:
Access
1. Log in to https://agent.kw.com with your KW login credentials.

2. Click the Consumer icon,

, on the left side bar.

3. Click Site & App Settings, at the top right of the page.

4. Click the Site Pages tab.
Customize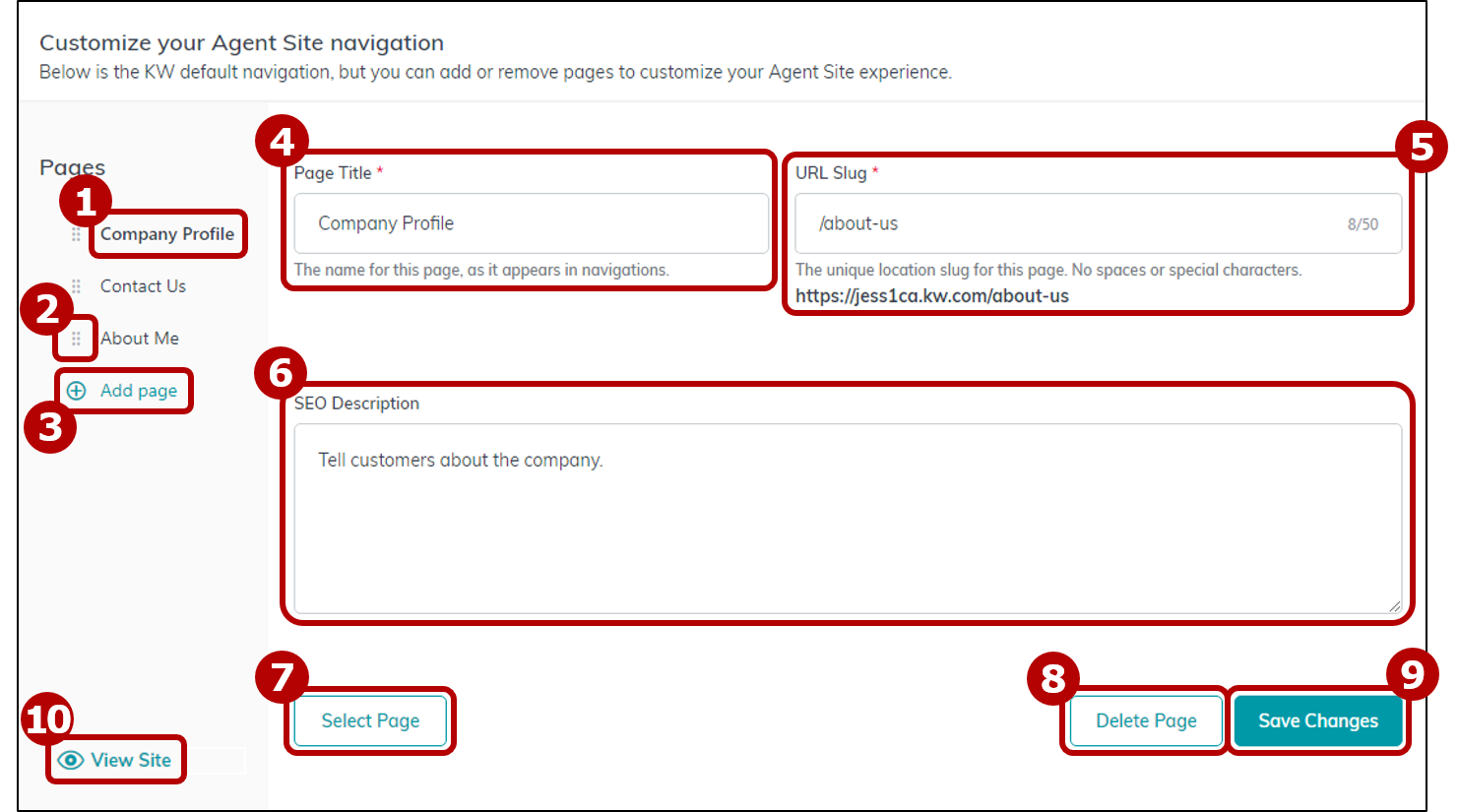 Edit Navigation

Click on any page title to edit the details.
Click and hold the six dots, to the left of any page title, to drag the page to another position in the navigation.
Click

+

Add Page, to add a new page to the site navigation. Use steps 4 - 9 to edit the page details.

Edit Page Details

Edit the title of the page. This will appear in the site navigation in Command and on the site itself.
Edit the URL slug for this page. In

Jessica.kw.com/about-us

, "about-us" is the URL slug that will display in the web address, when on this page.
Edit the SEO description of the page. Search engines show the SEO Description in the search results, and search engines will match keywords, used in a consumer search, with this description.
Once you edit the page details, click Select Page to attach a page you have created. This page is what will actually show on the site.
Click Delete to remove a page from the navigation.
Click Save Changes to save the edits you have made to the page.

Preview

Click View Agent Site to see a live view of your agent site configuration.