Command now has compliance folder messaging, which leadership can now use to reach out to agents about compliance for a specific Opportunity. This is a good way to let an agent know that there are missing documents, though you can now flag missing documents, when reviewing. You can give an agent more detail around why you are rejecting a document, using this messaging.
Keep in mind, your agents can also tag you in these messages, if they have questions, so be on the lookout for Command notifications regarding messaging.
To learn how to use compliance folder messaging, follow the steps below:
Access
1. Log in to https://agent.kw.com with your KW login credentials.
2. At the top of the page, click Command MC.
3. Click the Opportunities icon,

​, on the left sidebar.
4. At the top of the page, click Compliance Requests.
5. Find the compliance request in the list, then click Review.
Click here

to learn more about searching for submitted compliance requests.
Send a Message
1. For the first message, click Add Comment, at the top of the compliance checklist.

2. In the space provided, type the @ sign, choose the person you want to sent the message to from the drop-down, and type your message. Click Add Reply.
When you type the @ sign to choose who you will message, you will see the agent, Rainmaker, and any team member that is assigned to the Opportunity, in the drop-down list.

If you do not use an @ mention, the recipient of the message will not get a notification about your message.
Reply to a Message
When you are mentioned in a compliance folder message, you will get a Kelle notification and a notification in Command (the bell-shaped icon,

, at the top right of any page in Command, will have a red dot on it when there is a new notification). Use the link, in the Command notification, to zoom to that specific Opportunity and compliance checklist:
1. From any page in Command, click the notification icon,

, at the top right of the page.
2. Click the link in the notification. This will take you into Command MC, to the Opportunity where the message is located.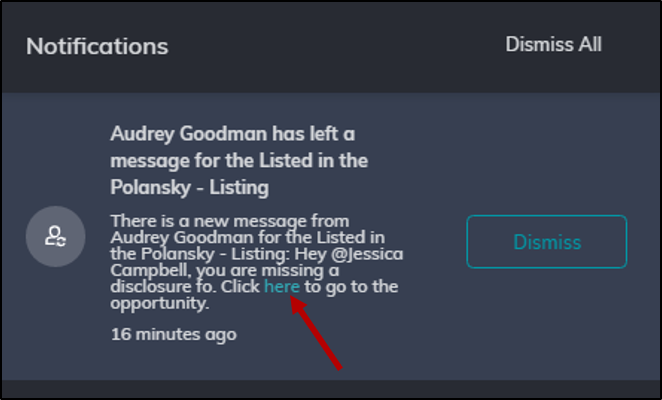 3. Click Documents, at the top of the Opportunity.
4. Click the message icon,

, next to the compliance event folder, and you will be able to respond to the message.