In Designs, you now have the ability to import any PDF into the design editor. This will separate the various elements of the PDF, have you identify the fonts, and allow you to edit/save as a design in Command.
To import a PDF to create a design in Command, follow the steps below:
1. Log in to https://agent.kw.com with your KW login credentials.

2. Click the Designs icon,

​, on the left sidebar.


3. At the top right of the page, click Import Design.

4. Click to browse or drag and drop the file to start the PDF import.
The maximum file size for this PDF import is 30 MB, and the maximum amount of pages, that you can include in one PDF import is 50 pages.

5. The PDF will then appear in your print and social design library below. Double click on the PDF, in the design library, to get it ready for editing.
When looking at your print and social design library, below the PDF import section, PDFs that have been imported and not edited will show with a warning icon, , at the top right of the design card. Click on the warning symbol to see what action needs to be taken prior to editing.

6. First, you will need to identify the fonts on your PDF. In the pop-up, the left hand column shows what the importer has identified. Use the drop-downs on the right hand column to match with the fonts in the editor. Choosing a different font might slightly change the layout of the PDF, but you will have the ability to edit these fonts (there are more font options within the editor) and the layout of the elements in the editor.

7. Next, choose a measurement unit and click Continue.
If you are making a social graphic, you must choose PX (Pixel).
If you are making a print design, you must choose IN (Inch), MM (Millimeter), or CM (Centimeter).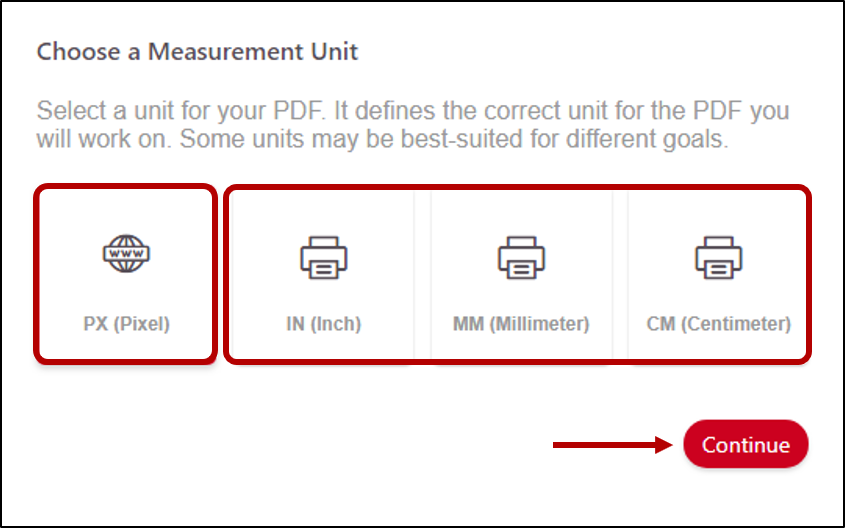 8. The system will take you back to your design library. Now your PDF will ready for you to edit, double click on the PDF to start editing.
Click here

to learn how to use the print and social design editor.