In Command, we now have Command Email which is the default service used by Keller Williams to send emails on your behalf from your KW Technology applications. Command Email does not use your personal email address to send emails, but uses a system generate email structured as <agent123456@mailer.kw.com>. This email address is not editable, though you can edit the display name and reply-to email address, to make sure the email is branded to you and that you will receive any replies.
Command Email also uses a sending credit system, each agent receiving credits at the beginning of the month and using those credits to send emails through Command. Each user receives 5,000 email sends per month at no charge, though agents are able to purchase more Command Email credits in the KW Marketplace.
Once you start getting close to reaching your 5,000 email limit for the month, you will receive notifications to let you know. You will receive both a Command and email notification when you reach 80%, 85%, 90%, and 95% of your monthly email usage.

If you hit your limit, you have the ability to upgrade your email subscription in the KW Marketplace, which will give you the ability to send more emails that month.

Command Email monthly limits do not roll over to the next month, if you don't use the full 5,000 (or the email limit from your upgraded subscription). 

Your Command Email subscription (the email limit) will reset on the 1st of every month.
When you send out automatic emails through SmartPlans, the system will use Command Email to send it. When sending an email campaign through the Campaigns applet, you have the option of using Command Email or MailChimp. Opportunities also uses Command Email for sending offer emails and Client Update emails. An exception to this is any email the system sends to contacts that come from the KW Consumer platform. If your client sets up alerts for things like saved searches, the system will send those alerts using a no-reply email address, where the client can contact you through the site or landing page.
To get a rundown of Command Email:
Access
1. Log in to https://agent.kw.com with your Keller Williams login credentials.

2. Click your name at the top of the screen and select Settings from the drop-down.

3. From the Connected Applications page, navigate to the Command Email application and click Manage.
Overview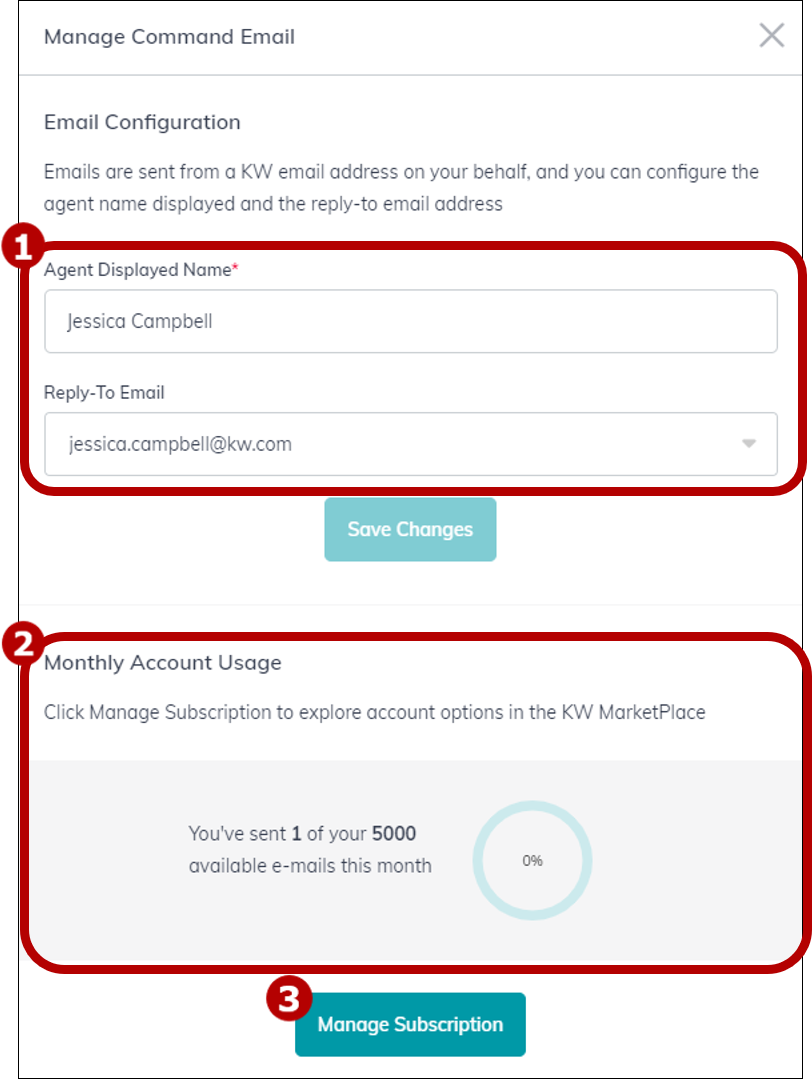 Use this section to customize the display name and reply-to email address for emails sent through Command Email. 

 You can monitor your monthly account usage in this section. By default, you have 5,000 free emails that you can send through Command Email each month. See #3 to learn how to increase this.

 Click Manage Subscription to update your Command Email subscription and change the number of emails you can send for the month, in the KW MarketPlace. By default, you can send 5,000 free emails, per month.