In Command, you have access to one of the largest referral networks in the country with the Referrals Applet. Within Referrals, you are able to send and receive referral requests, track and manage your referrals, and grow your own referral network.
To learn how to accept a referral request, please follow the steps below:
1. Log in to https://agent.kw.com with your KW login credentials.

2. Click the Referrals icon,

, on the left side bar.

3. Click either Pending Referrals or Received. Both options will take you to same place.

4. Locate the referral request you have received and click Accept.

5. You can write an optional message before accepting the referral. Click Accept when done.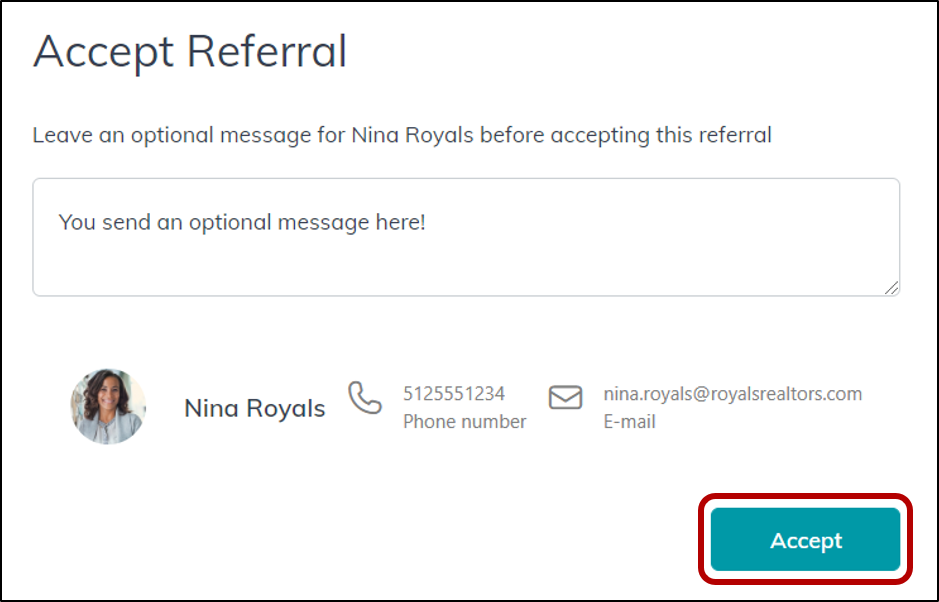 6. After you have accepted the referral request a "Create Opportunity" form will automatically appear. Fill out the form and click Create when finished. This will allow the agent who sent the referral to keep track of the Opportunity via email notifications and the My Referrals page.
Click here

to learn more about the fields in this form.
If you are on a team, be purposeful about the Team field in this form. Selecting your team will put this Opportunity in your Team pipeline, not selecting your team puts it in your personal pipeline. Once created, you cannot edit this field.