After a user has sent an email campaign they will be able track the overall performance of that specific campaign. The Emails tab within Campaigns shows users a high level overview of their mailed, draft, and archived email campaigns. Users can take certain actions on email campaigns like editing or duplicating an existing campaign draft and duplicating a campaign that already been ran. It's also where users can track how many recipients, views, and clicks they have received through their Email campaigns.
To track and manage Email Campaigns metrics:
Access

1. Log in to http://agent.kw.com with your Keller Williams login credentials.

2. Click the Campaigns icon,
, on the left side bar.
3. Click Emails at the top of the page.
| | | |
| --- | --- | --- |
| | If your initial Campaigns dashboard does not appear like the image above, don't worry - everybody will have a different dashboard depending on their usage of Campaigns in the past 3 months. There are three levels: Beginner, Intermediate, and Advanced. | |

Navigation

An overview displaying certain metrics will be displayed here. Below that overview you can see certain metrics displayed for individual campaigns.

Here is where you can search for specific Direct Mail campaigns that you have created.

Use this tab to view All, Mailed, Draft Campaigns, and Archived Campaigns.

Here is where you can filter campaigns based on goals.

Channels Selected - You can filter metrics based on the two available channels for sending email campaigns: Command Email and MailChimp.

Click Email Lists to either create an email contact list or edit an existing one.

Overview – Your email campaign title.

Status – The current status of a email campaign:
Draft – Your ad is created, but not yet activated.
Mailed - Your email campaign has been mailed
Payment Failure – Unable to process your payment. Please resubmit your ad.

Date - The day the campaign was sent.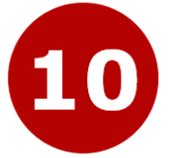 Sent - How many people were sent the email campaign that you ran.
Opens -How many people opened the email campaign you sent out.

Clicks - How many people clicked the link(s) in your email campaign after they initially opened the email.

Goal - The goal for the campaign.

For Campaign Drafts, you can click the three dots next to the campaign to see the Preview, Edit, Duplicate, and Archive options, which allow you to manage your marketing campaigns.
For Completed Campaigns, you may also click you can click the three dots next to the campaign to see the Download CSV, Duplicate, and Archive options as well.