When you create the DocuSign Room or Dotloop Loop for an Opportunity, much of the information that has already been entered into Command (listing details, details from your agent profile, information about the associated contact) will pull into the new DocuSign Room or Dotloop Loop. We are also able to push new and updated information to DocuSign/Dotloop whenever we want, using the Sync Transaction button.
Where does info pull from when syncing to your DocuSign/Dotloop Room?

KW Profile

Opportunity: Opportunity Details

Opportunity: Attached Listing

Agent KW Profile
(Personal Information)


1. Agent Name

2. Agent Email Address

3. Agent Phone Number

 

Market Center White Pages Profile

1. Market Center DBA Name

2. Market Center Address

When an offer is accepted, in an Opportunity, those details override info added to fields in this section.


1. Contact Name (Seller/Buyer)

If there is a Legal Name added in the contact record, this will also sync to DocuSign.

2. Co-Seller/Co-Buyer

3. Expected Closed Date

4. Closed Date

5. Manually-entered Property Details

An attached listing overrides these property details

1. Listing Address

2. Year Built

3. Listing Date

4. Current List Price

5. Lot Size

6. Beds & Baths

7. Listing Expiration Date

8. MLS ID

9. Legal Description
When you sync these details with your connected document management platform, it will replace the details that are currently added and those details will auto-populate into forms that are sent for completion in the future.
 

You must create the DocuSign Room or Dotloop Loop from within the Opportunity to be able to sync the Opportunity details.

Click here

to learn how to create a DocuSign Room for an Opportunity.

Click here

to learn how to create a Dotloop Loop for an Opportunity.

When you use the Sync Transaction button, keep in mind that information will only go from Command to DocuSign/Dotloop and will never take information from DocuSign/Dotloop and change anything in Command.

 
To learn how to sync Opportunity details with the connected DocuSign Room or Dotloop Loop, follow the steps below:
1. Log in to https://agent.kw.com with your Keller Williams login credentials.
 
2. Click the Opportunities icon, 

​, on the left sidebar.
 
3. From the Opportunities Dashboard, click on the phase, where your Opportunity is located, then click on the Opportunity Name.
 
4. By default, you will land on the Details tab. Click Sync Transaction, at the top of the General Information section.

5. Click Update, to confirm.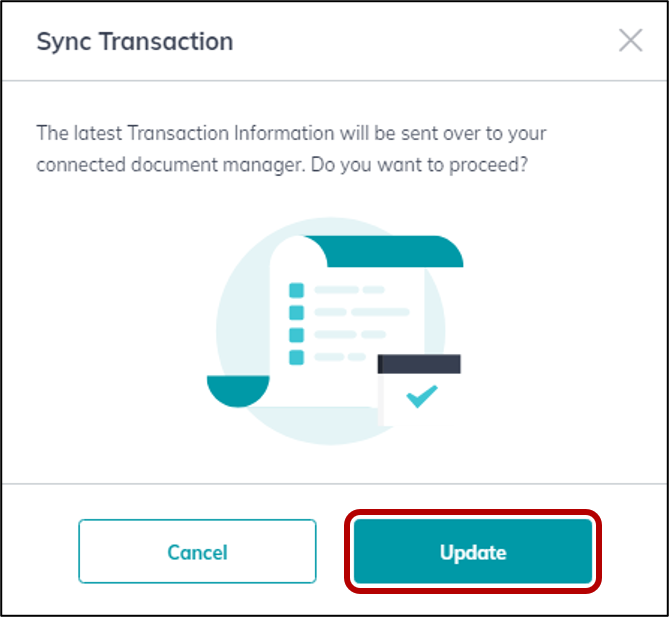 At the top of the Opportunity Details page, you will see a message saying that your data has synced.


All of the fields that sync over will show one of two statuses:  
Edited - you have updated the info in that field since the last time you synced. The next time you sync the transaction data, this new info will populate or replace the existing info in DocuSign or Dotloop.
Synced - the most current info has synced over to DocuSign or Dotloop. If there is an empty field, the empty state will not override information entered directly into DocuSign.