Rainmakers now have the ability to add admins to Command. These are admins that aren't in the Keller Williams system (if the admin is in your Market Center, they should be added to the team roster in the Teams Administration Tool), but have been created by the Rainmaker of the team, in Command.
That being said, we wanted to give Market Center leadership a heads up, once these accounts are created, and we wanted to give MCAs and Assistant MCAs a way to remove an admin, at any time. There could be many reasons for this, but if you need to remove an admin, you can.
Now, when a Rainmaker creates a new admin, an email alert will be sent to MC leaders with the following roles: OP, MCA, TL, Assistant MCA, Assistant TL, Productivity Coach, MC Broker, MC Investor and MC Tech Coordinator, which will be sent to the email address they have entered in their KW White Pages profile. This email alert will let you know the details around the new admin. These new admin accounts will not activate for 72 hours, so you have time to review. In addition, you have access to a new team management settings page, in Command, where you can see team members (including these admins) and you have the ability to remove admins at any time. Keep in mind, even though all MC leadership will receive the email alert, only the OP, MCA and Assistant MCA will have the option to remove admins.
Though you can see all team members on this settings page and can remove admins, you won't be able to manage the regular team members here. You will still need to use the Teams Administration Tool to manage the main team roster.

Click here

to learn how to access the Teams Administration Tool to add or remove team members.
To learn how to remove agent team admins in Command MC, follow the steps below:
1. Log in to https://agent.kw.com with your KW login credentials.

2. Click your name, at the top right of the page, and choose Settings from the drop-down.

3. On the left side of the page, click CommandMC Settings, then click Team Management.
4. At the top right of the page, use the drop-down to select the team you want to manage.

You will then see the team roster with each member's KW username, team role (their role from the Teams Administration Tool, not White Pages), and the date they were added to the team.

5. If a team member shows the Admin role, you will know that is an admin account the Rainmaker has created. To the right of their Start Date, click the trash can icon,

, when you want to remove them.

6. A confirmation will appear, click Remove.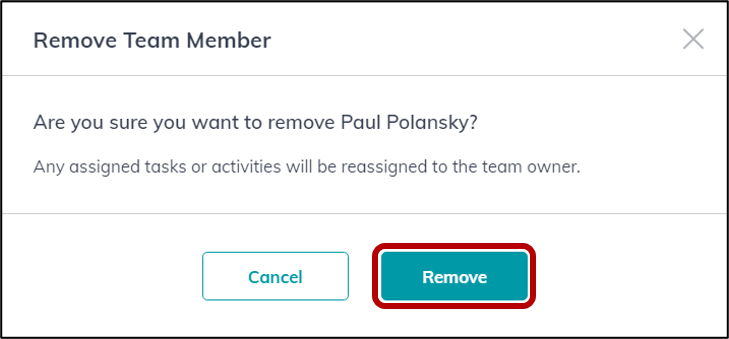 That will remove the admin account from the system immediately. You can now alert the Rainmaker of the team that you removed an admin from their team.