As a member of the National Association of REALTORS® (NAR), you can access pre-tagged association forms within Rooms. To access these association form, you will need to validate your NAR membership in DocuSign.
When adding your first association form, you will be prompted to provide:
Your

NRDS ID. This is a 9-digit number provided by NAR to verify your association memberships.
An

Association

you belong to. If you belong to multiple associations, choose topmost level association for validation purposes.
Do I need to validate each of my associations?
In most cases, you do not need to. Pick the topmost level association and connect that, it will then authenticate any other associations in the NAR/NRDS account to your DocuSign account.
There are a few exceptions where an agent who is a part of a specific MLS or Association will need to complete an additional validation:
Northwest MLS
Georgia Association of Realtors
California Association of Realtors
Oregon Real Estate Forms
Texas Association of Realtors
In these cases, after validating your NRDS ID, repeat steps 1-5 below and complete the additional validation.
Once you add this, you will have access to the forms you need. If you have any trouble validating your NRDS number, we wanted to make sure you have the steps to troubleshoot.
To learn how to validate your NRDS ID in DocuSign and to find troubleshooting tips around this, follow the steps below:

1. Log in to your DocuSign account with your DocuSign login credentials. You can get to DocuSign directly through DocuSign.com (If you log in directly, click your profile picture and select Switch to Rooms) or you can access an Opportunity and access the DocuSign Room linked to the Opportunity.
Click here

to learn how to access the DocuSign Room for an Opportunity.

2. Click your initials or profile picture, at the top right of the page, and choose Preferences from the drop-down.

3. On the left side of the page, click Integrations.

4. In the DocuSign Forms Settings section, click Add Provider.

5. Choose a Forms Provider option.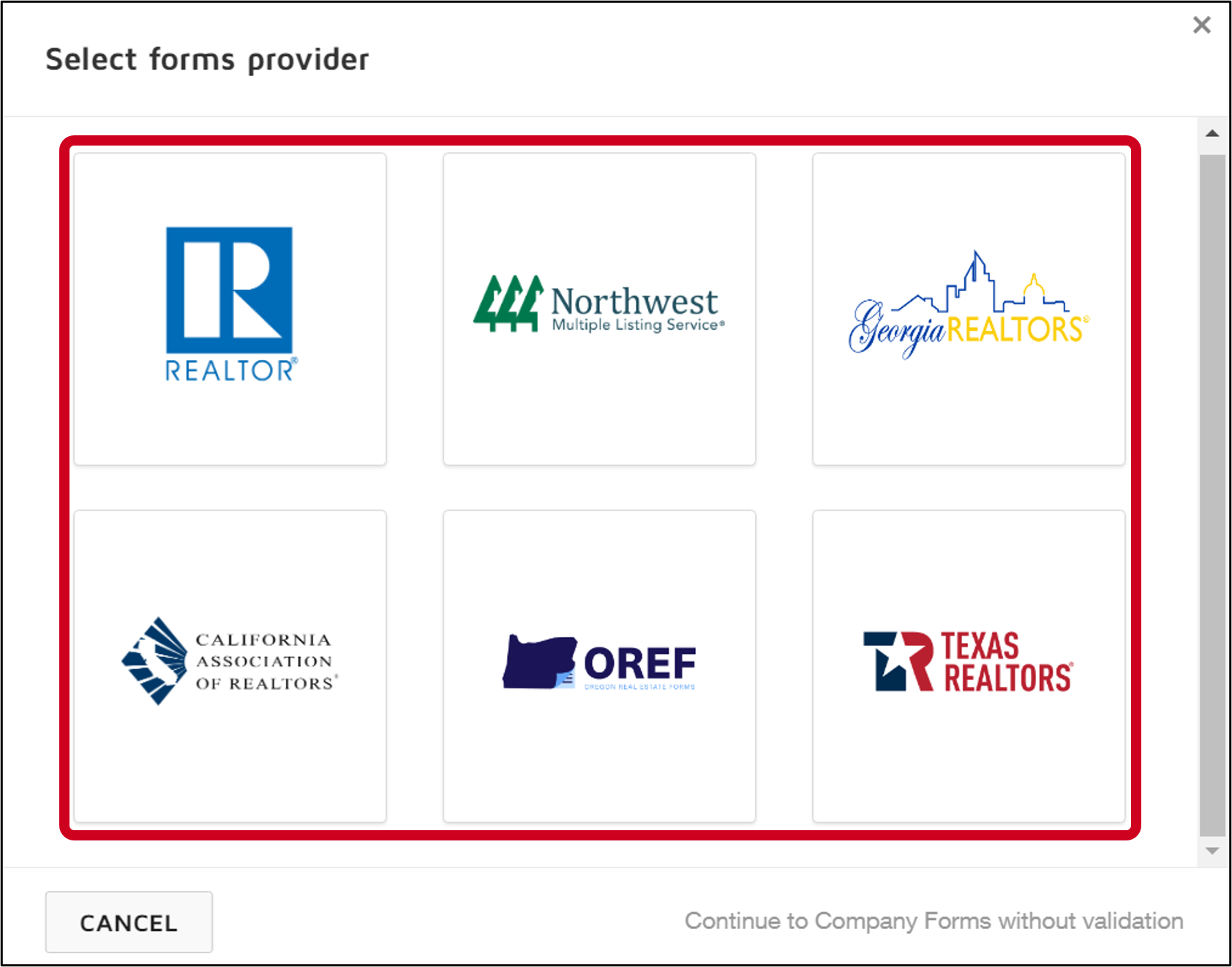 6. Enter your NRDS ID, then your last name (as it appears on your RE license), and choose the association you are a member of, from the drop-down.
If you are unsure of what your NRDS ID is, click Find your NRDS ID.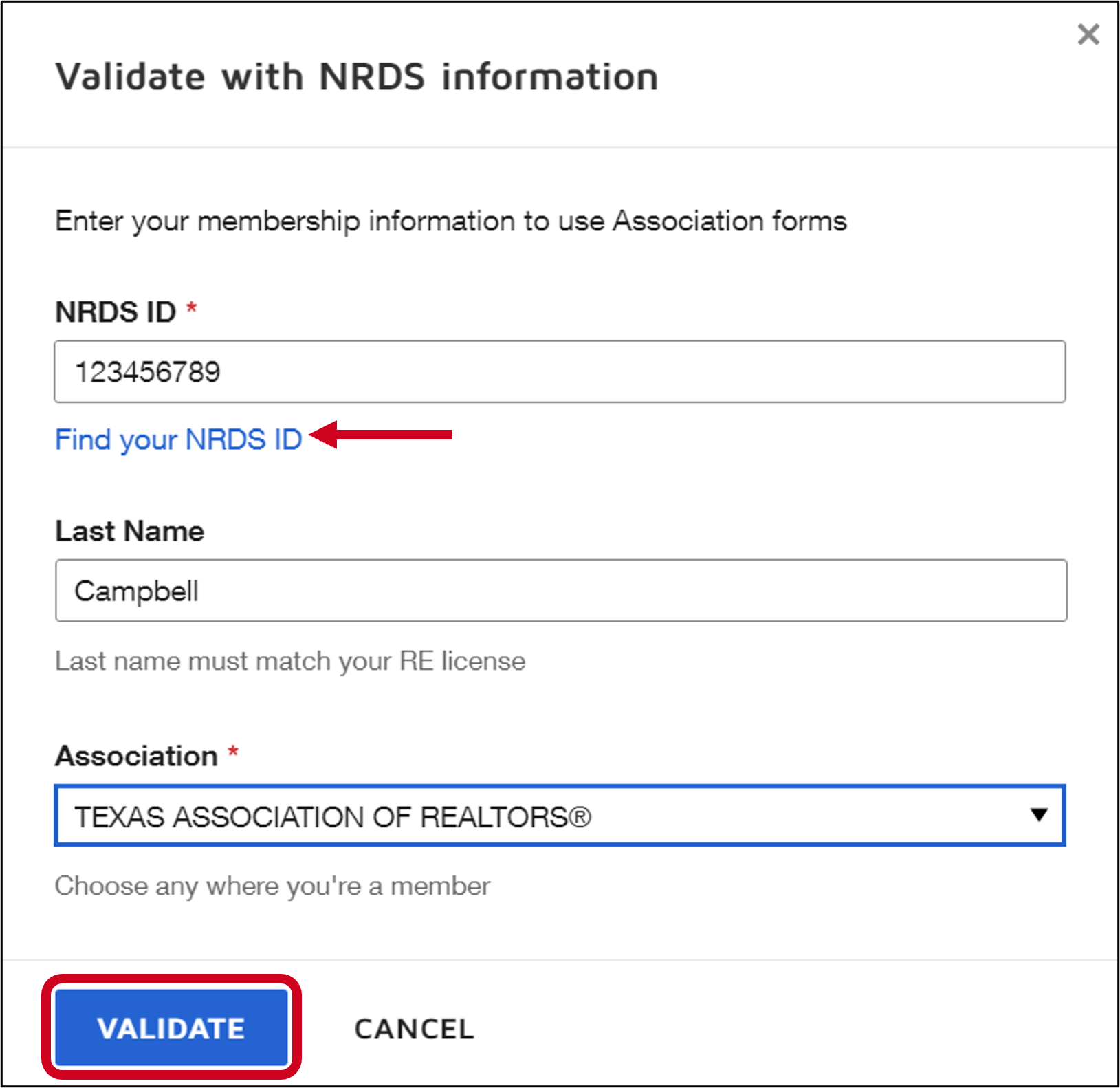 Troubleshooting an Invalid Entry
If the information you provided here doesn't match NAR records, you'll see an error message after clicking Save Changes.


1. Possible Cause: You are not a member of the selected association.
Try choosing a different association you belong to in the Association field and click VALIDATE again. NAR needs one valid NRDS ID/association combination to confirm your membership, so you can choose any association you belong to.


Contact NAR to confirm your REALTOR® association membership information. Reach NAR customer service at 1-800-874-6500 or email nrdshelp@realtors.org. Your brokerage might also be able to confirm your REALTOR® association membership information.
2. Possible Cause: The NRDS ID is incorrect.
Check your NRDS ID to make sure you typed it correctly.


Click the Find your NRDS ID link to find your ID if you don't know your ID number.
3. Possible Cause: Your last name in DocuSign doesn't match your last name on your NAR membership.
Go to My Profile in DocuSign and check your last name. Compare the name with the last name on your NAR association membership. If they don't match, correct them.
To correct your name in DocuSign:
In Rooms, click Manage Profile in the drop-down menu.
rooms-profile-menu
Under My Profile Information, click Name.
Edit your name.
Click Save.