Opportunities received a big update! We have combined the Offers and Commissions tabs, and now attach Commission requests to accepted offers. In this way, if a deal falls through an agent can submit a Commission Termination request, start receiving/submitting new offers, and submit a new Commission request when ready.
From the Command MC side, you will now start seeing Commission Termination requests mixed in with regular Commission Requests.
Click here

to learn how to terminate a Commission in Command MC.
To review, accept or return a Commission request:


1. Log in to https://agent.kw.com with your KW login credentials.

2. At the top of the page, click Command MC.

3. Click the Opportunities icon,

​, on the left sidebar.

4. At the top of the page, click Commission Requests.


5. Use the search, filters and sorting to find the Commission Request in the list and click View Commission.
6. Review the Commission Request details. On the right of the page, under the Summary section, click either Approve or Return.
You also have the ability to click Change Status, and set the status to open without returning. You could use this if the agent submitted the Commission request, but needs to make changes before or even after you approve.
 

 

If you see an Action Required message (shown below), instead of the Approve and Return buttons, it means the agent has submitted a Commission Termination request for a previously approved Commission.

OR

If the old Commission has not been imported into WinMORE, click the Termination Request link, in the message, and the system will take you to that specific Commission Termination request. Terminate the Commission and you will be able to approve or return the Commission request that you were originally reviewing.

 

If the old Commission has been imported into WinMORE, terminate the DA in WinMORE. The Commission will automatically terminate and you will be able to approve or return the Commission request that you were originally reviewing.

 
If you approved the Commission Request, the agent will see the approval within the Opportunity, and you can follow follow the procedure to import the Opportunity (Get Opportunity) into WinMORE.
To learn how to import an Opportunity into WinMORE, 

click here

.

If you returned the Commission Request, a pop-up will appear. You must enter a reason for returning the Commission Request, then click Return Opportunity.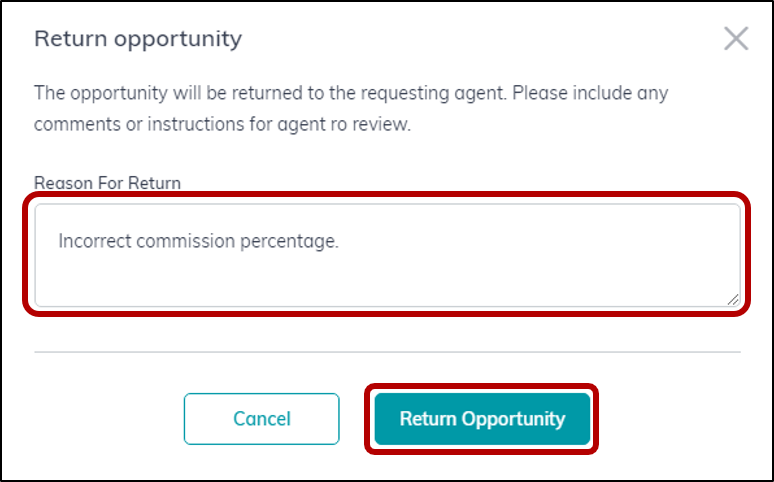 The agent will then see a message in the Opportunity, letting them know you returned their Commission Request and the reasons.
They will then need to resubmit the updated Commission Request, and you can repeat the process until you approve the request.