The new Training Applet, in Connect 2.0 is now in Labs! This applet includes traditional course content, on-demand training, training articles, how to videos, and much more. Within the Training Applet you can bookmark content that you find so you can view it later and then remove it once you have completed it. You are also able to download course content as well and view it outside of Connect 2.0.
Use the resources below to help get familiar with the layout of the Training Applet:
Access
1. Log in to https://agent.kw.com with your KW login credentials.
2. Click Connect at the top of the page.
3. Click the Training applet icon,

, on the left sidebar.
My Bookshelf
The Bookshelf, is where all the content you have bookmarked will be displayed. This is helpful for accessing the content later whether it be learning paths or on-demand courses. Once you have completed the content you can remove it from the Bookshelf as well. From within the Bookshelf page, if you click the filters icon,

, a table of filters will appear that allows you to search for training content by its Type (On Demand Course, Learning Path, Channel Resources) or Status (Not Started, In Progress, Done).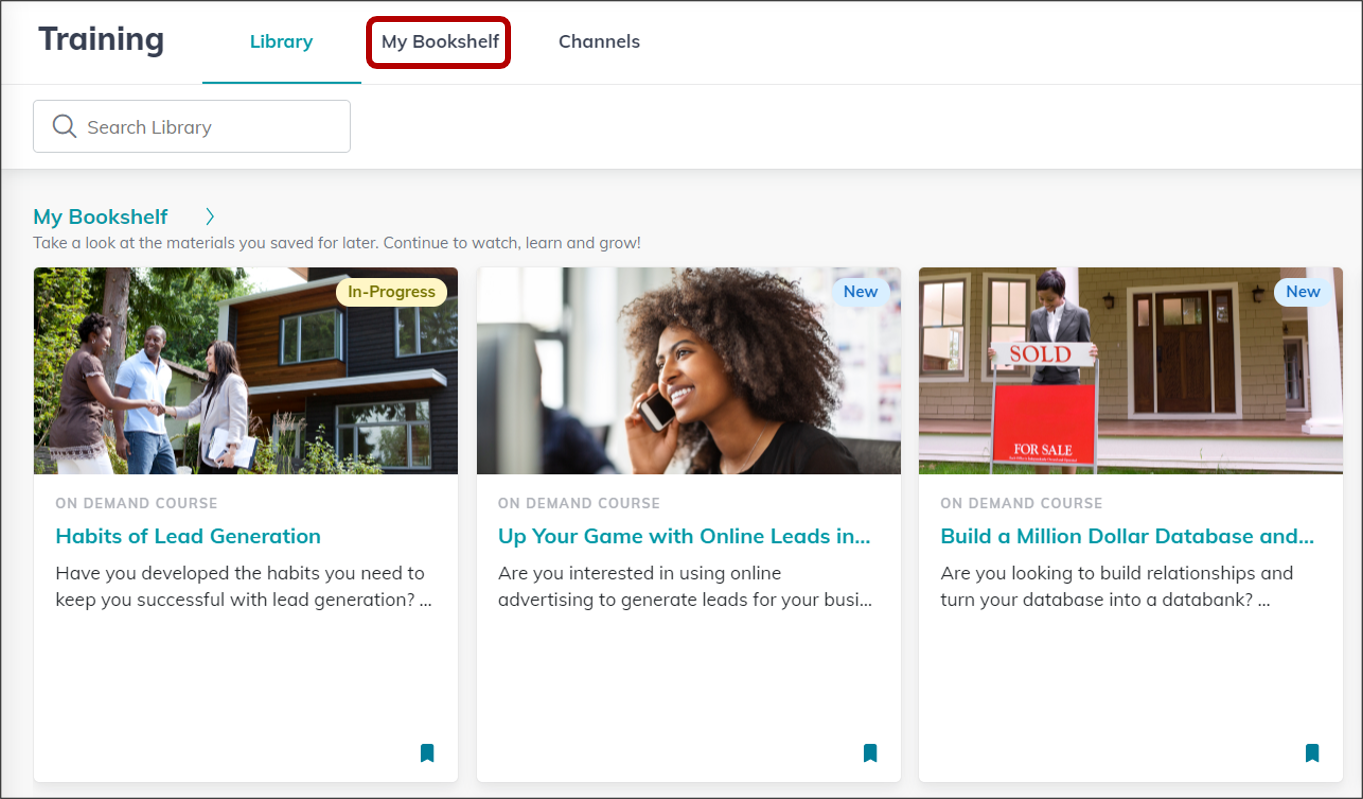 Click here

to learn how find content in the Training Applet.

Click here

to learn how to add and remove content to/from your Training Bookshelf.
Explore Channels
The Channels page is where you can find all the channels available to you. Within each channel you can find courses, learning paths, playlists, and other channel resources as well.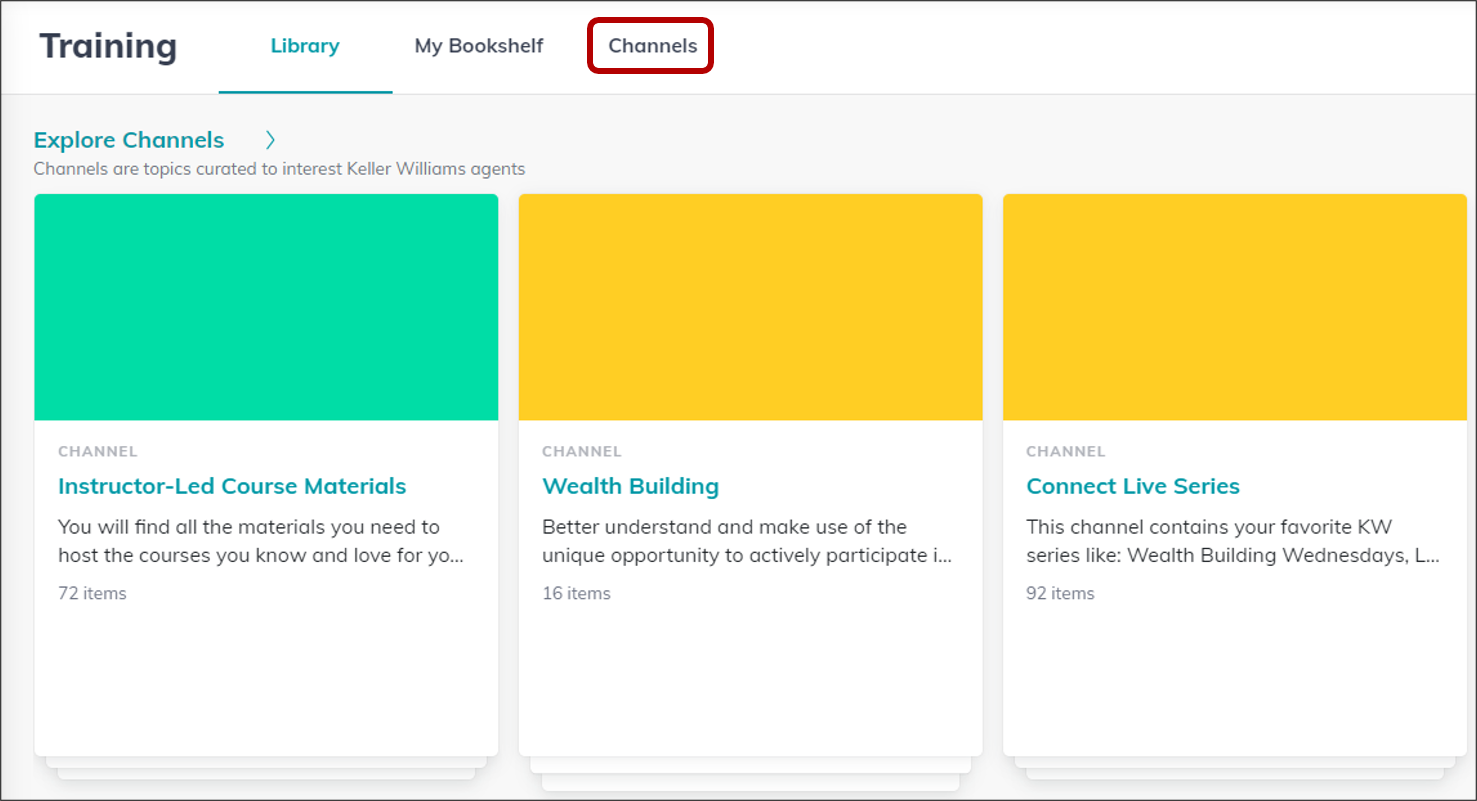 Channel Resources - Channel resources are one-off resources that can be used outside of a formal learning experience.
Courses and Learning Paths
This section contains training materials that are available to all KW associates. Any courses or learning paths that are bookmarked here will be added to My Bookshelf.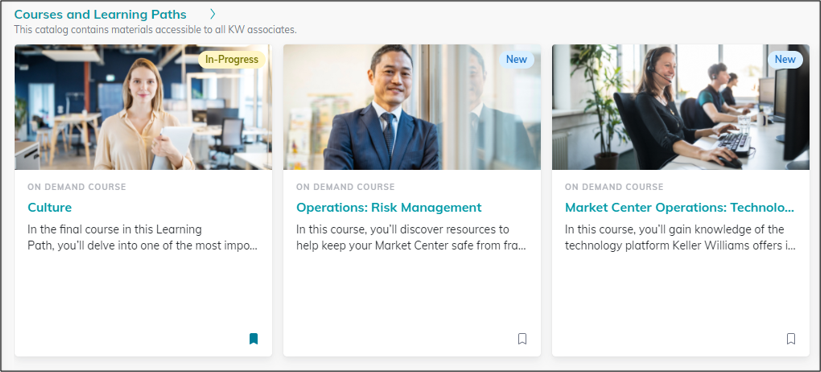 Learning Path - A Learning Path consists of multiple courses that are in a specific order. Some Learning Paths must be completed in order while others can be self-navigated.


On Demand Course - An On Demand Couse is a self-study course that can be completed on your own time and at your own pace. It includes lessons that can be completed sequentially or freely - depending on how it was created.


Lessons - Lessons are the individual components of a course. Lessons can consist of learning materials like videos, document downloads, and help articles.