In Command MC, Regional leaders (ROP, RD, RDA, RMCA, RMCAA, ROM) are able to manage KW Luxury for their region by accepting or increasing the set standard for the Luxury Price Floor for each county. This will allow for a consistent standard among all Market Centers that operate within that areas.
To adjust the price floor for KW Luxury in your region:
1. Log in to https://agent.kw.com with your KW login credentials.
2. Click Command MC at the top of the page.
3. Click the Directory icon,

, on the left sidebar.
4. From the list of regions on the directory list, click your region.

5. Once you have reached the Luxury portal for your region you will see the luxury price floor of every county within it. Click the edit icon,

,beside the desired county's Luxury Floor Price Point.
| | | |
| --- | --- | --- |
| | When considering adjusting the Luxury Price Floor, be sure to do so in conversation with your Market Center | |
6. Enter in your increase and click Apply. A number will display representing how many total units and qualified units are within a Market Center within the county and another number in parenthesis will display representing how many qualifying units are going to become ineligible as a result of the price floor change. You will only be able to increase the luxury price floor for a county so keep that in mind when making adjustments.
Click Save when done.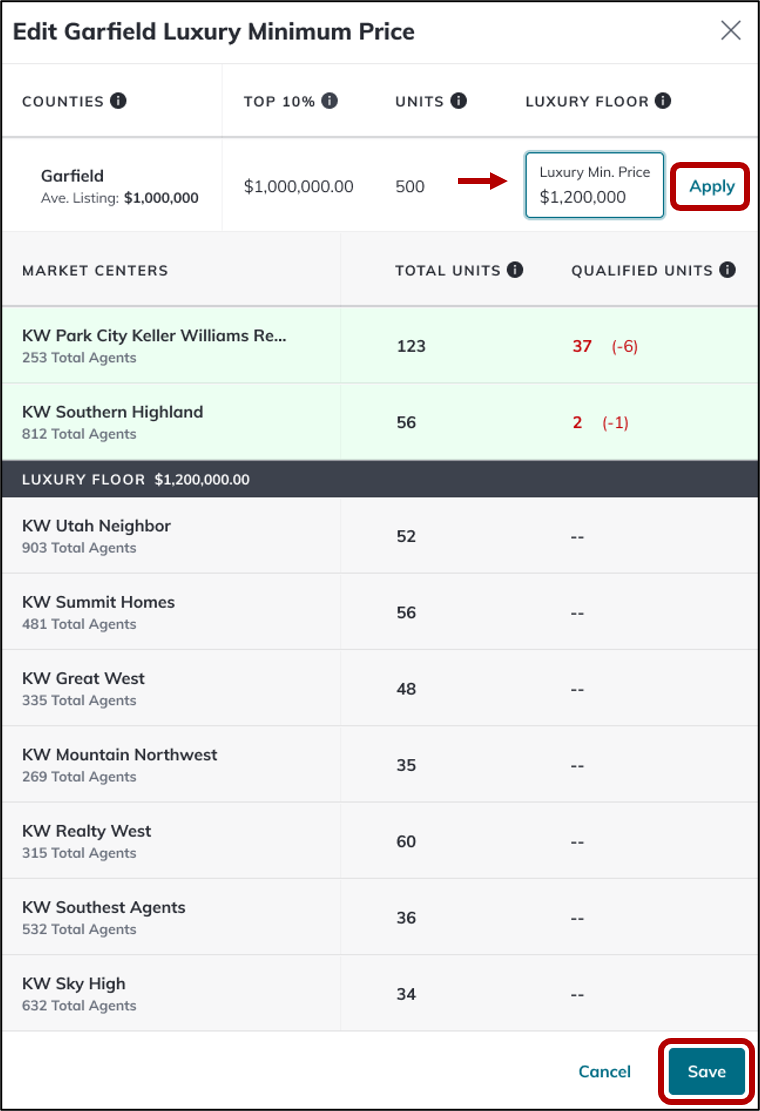 | | | |
| --- | --- | --- |
| | It is recommended to only change the Luxury price floor once a year, preferably in January, to keep a consistency throughout the next twelve months. | |
Once the price floor change is saved, the changes will take affect immediately.