WARNING! You must comply with the Telephone Consumer Protection Act (TCPA) and any other federal, state or local laws, including for B2B (business-to-business) calls and texts. Never call or text a number on any Do Not Call list, and do not use an autodialer or artificial voice or prerecorded messages without proper consent. For more information about the TCPA and DNC laws, visit https://www.kwconnect.com/page/industry-resource/dnc. Contact your attorney to ensure your compliance.

SmartPlan text messages are sent out within the window of 10am-7pm CST. If an agent attempts to start one at 8pm, although it appears that the text should send immediately, it may be held from being sent until the next day between 10am-2pm CST. Emails do not have a time restriction and are sent out when the email step is executed.
While you are on-the-go, getting new leads, talking to clients and running your business, it's really easy to quickly add a lead/contact to an existing SmartPlan without having to go to your desktop to do it.
You will only be able to add contact to SmartPlans that are in your SmartPlans list. If you don't see the SmartPlan in the app, either add the SmartPlan to your list from the KW SmartPlans Library, or create a new SmartPlan, on your desktop.
To add a contact to a SmartPlan using the Command App:

1. Log in to the Command App with your KW login credentials.

2. Tap the Contacts icon,

, on the bottom of the screen.

3. Tap on the desired contact, tap the

icon in the bottom right side of the screen, and select Add to SmartPlan.
You also have the ability to add multiple contacts to a SmartPlan at one time using bulk actions:

Tap the ellipses icon, , at the top right of the screen, then tap Select Contacts.
Select up to 50 contacts, then tap Add Tags, at the bottom of the screen.

4. Select the desired SmartPlan from the list.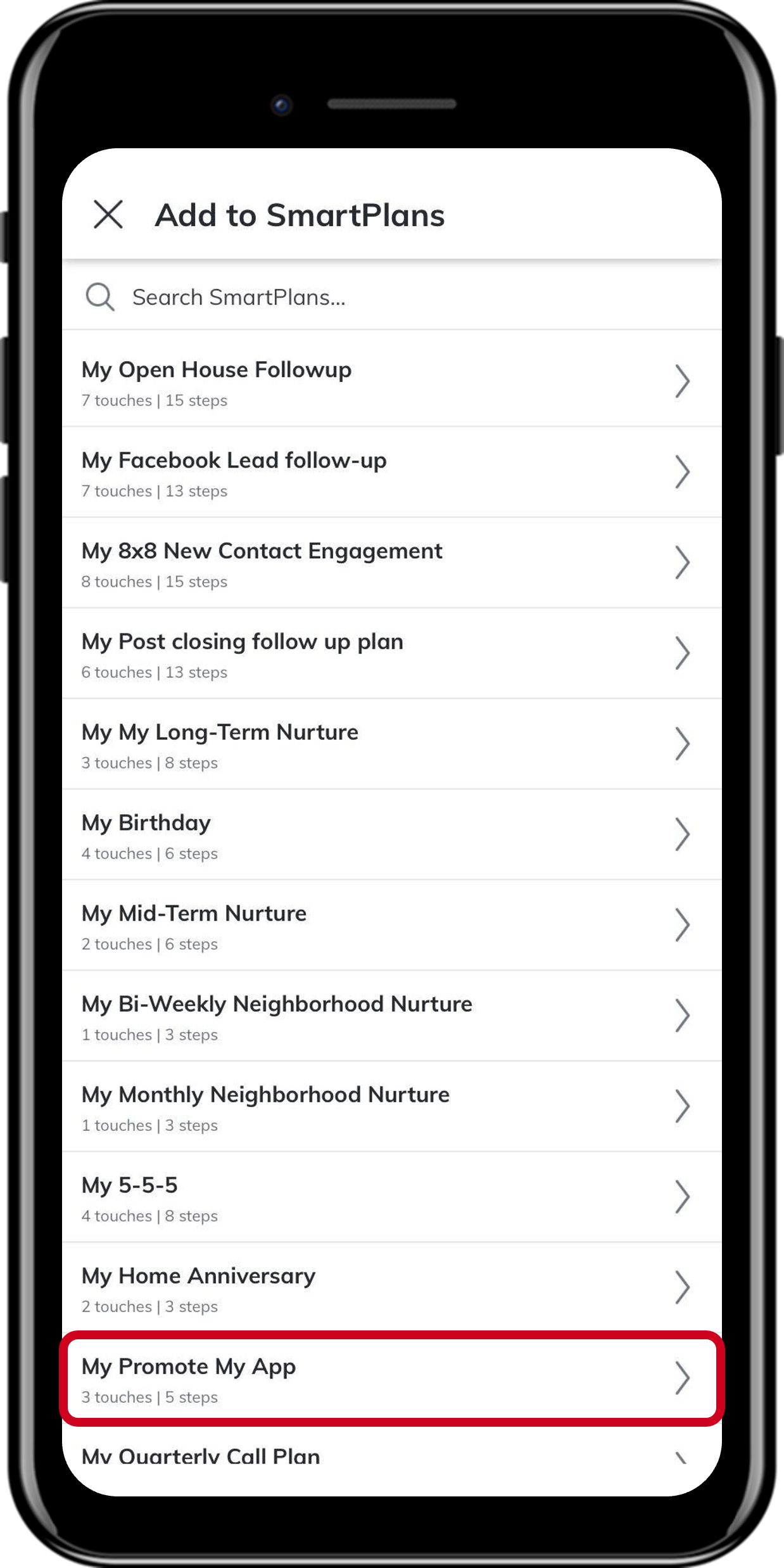 7. Review the steps for the SmartPlan. If there are text messages or emails within the SmartPlan you can tap Preview Message. After that select the Start Date for the SmartPlan.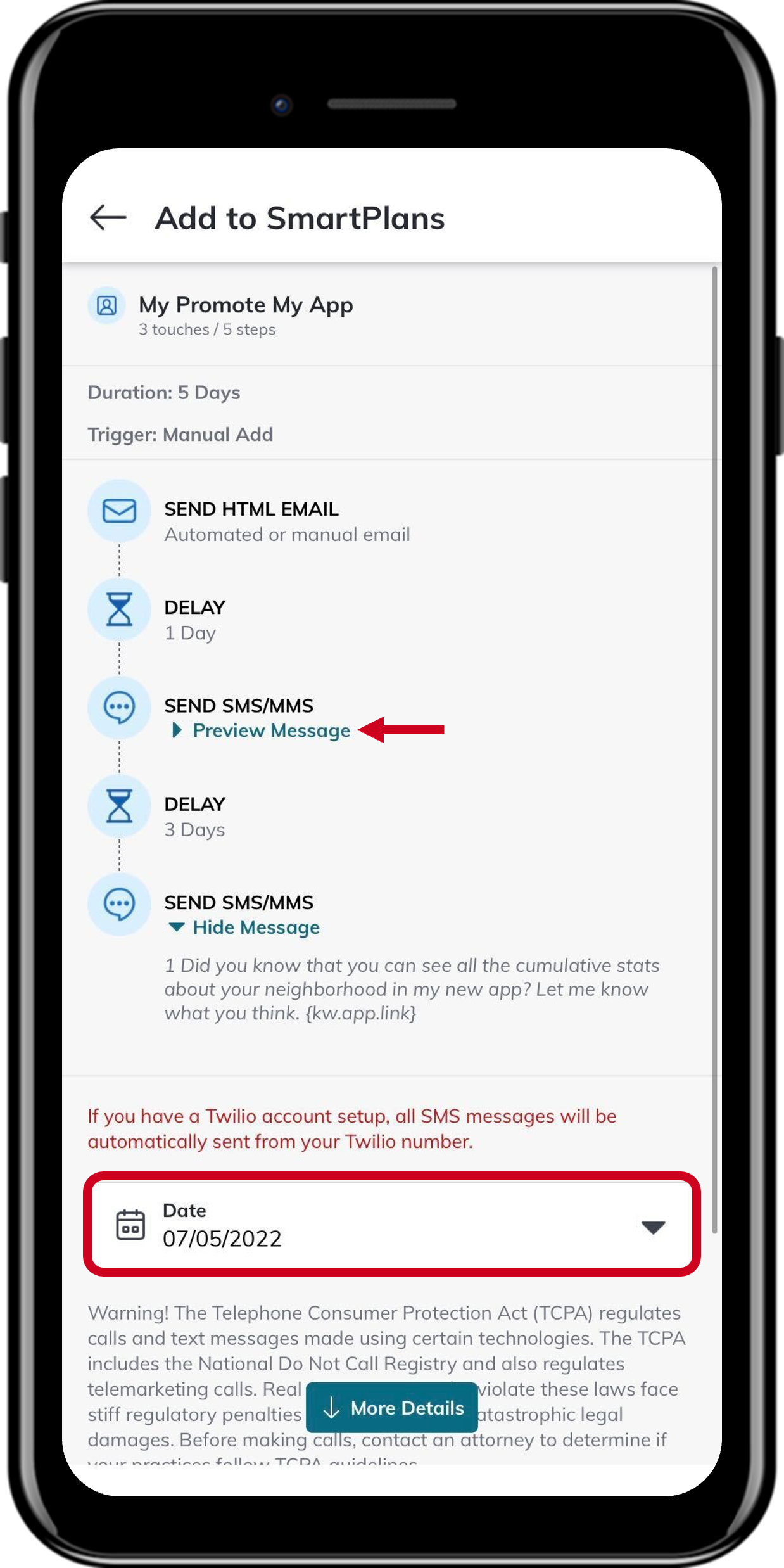 8. Tap the checkbox confirming that you have read the TCPA disclaimer and click Confirm.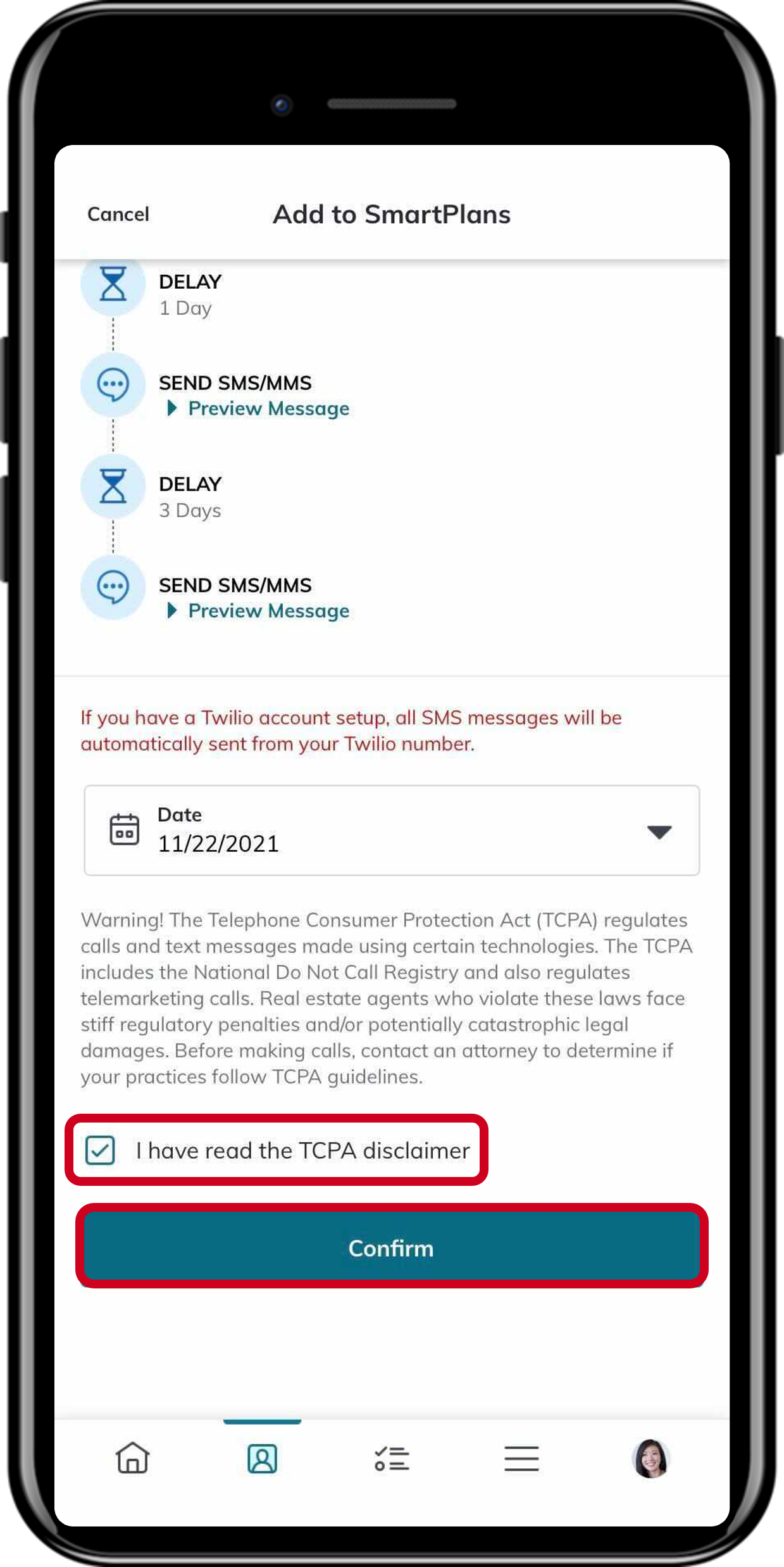 The SmartPlan will be displayed within the SmartPlans tab of the contact record.