keep in mind that payment for stock images is handled outside of the sphere of Keller Williams Realty International. Keller Williams has partnered with Desygner for this service. As such, contact the

Desygner Customer Service team

for any billing or delivery issues.
In the print and social design editor, there is a large library of stock images associates have access to. Many of these images are free to use, though there is a huge library of Shutterstock images that you can access by paying either a monthly or yearly subscription.
To access stock images in the print and social design editor:

1. Log in to https://agent.kw.com with your KW login credentials.

2. Click the Designs icon,

​, on the left sidebar.

3. At the top left of the page, click Create Design.

4. In the Create Design modal, select either Social or Print, depending on the type of design you are creating, and click Continue.

5. Use the filters, on the left side of the page to choose the type of template you want to create.

6. Choose a design optimization size, at the top of the page, this will ensure that the template is optimized for where you are going to feature the design, then hover over the template and click Use, to start editing.

7. By default you will land on the Images panel, in the design editor. Once you access that panel, click either the Stock or Workspace tab to access stock images.

8. Every image in the Workspace tab is free to use. In the Stock tab, you will see one of two labels on each image:
Enterprise Resource - these are free stock images that you can use in any of your designs.
Unlimited Shutterstock - these stock images are a part of the Shutterstock Unlimited plan, you will need to purchase a subscription (see the next step) to use these.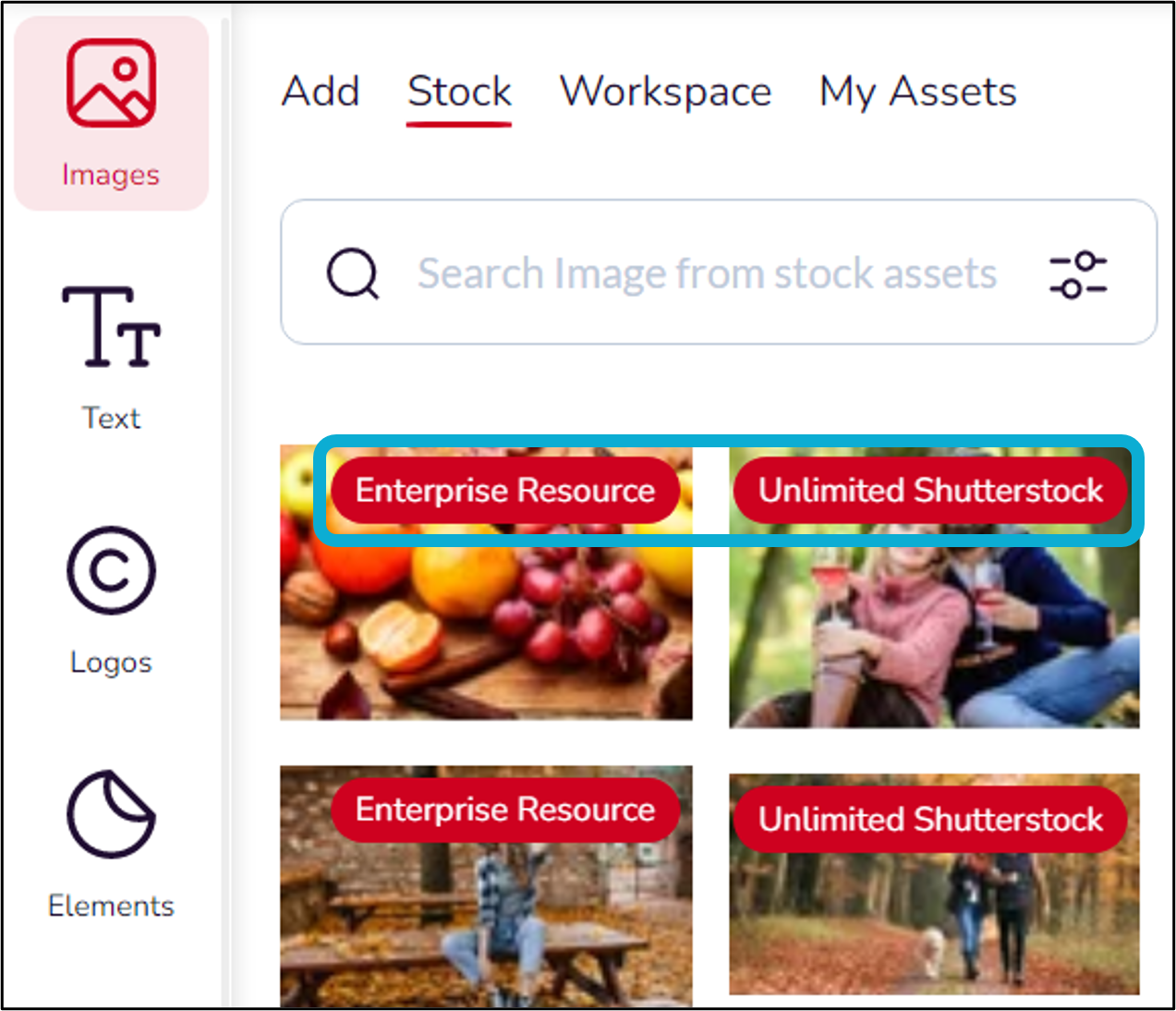 9. If you want to use an Unlimited Shutterstock image, hover over the image, click Upgrade to Use, then click Subscribe to access the sign-up form.
You will then be able to use any of the stock images, as long as your Shutterstock Unlimited account is up-to-date.