In Designs, associates have the ability to not only customize pre-made email templates, but also to import email HTML code or files, which can then be customized and utilized with SmartPlans or email campaigns.
HTML emails contain images, colors and more advanced formatting, as opposed to plain text emails.
Simply export the HTML from an email editor of your choosing, import the HTML into Designs, and then customize the final product. One thing to keep in mind, when you import email HTML, the images from sources outside of Command are usually exported separately and cannot be imported into Command. The export file you get from your original design usually includes any needed images, and you will have the chance to add those during the import/customization process.
To import an HTML email design in Command:
Access
1. Log in to https://agent.kw.com with your Keller Williams login credentials.

2. Click the Designs icon,

, on the left sidebar.

3. At the top right of this screen, click Create Design.

4. Select Email and click Continue.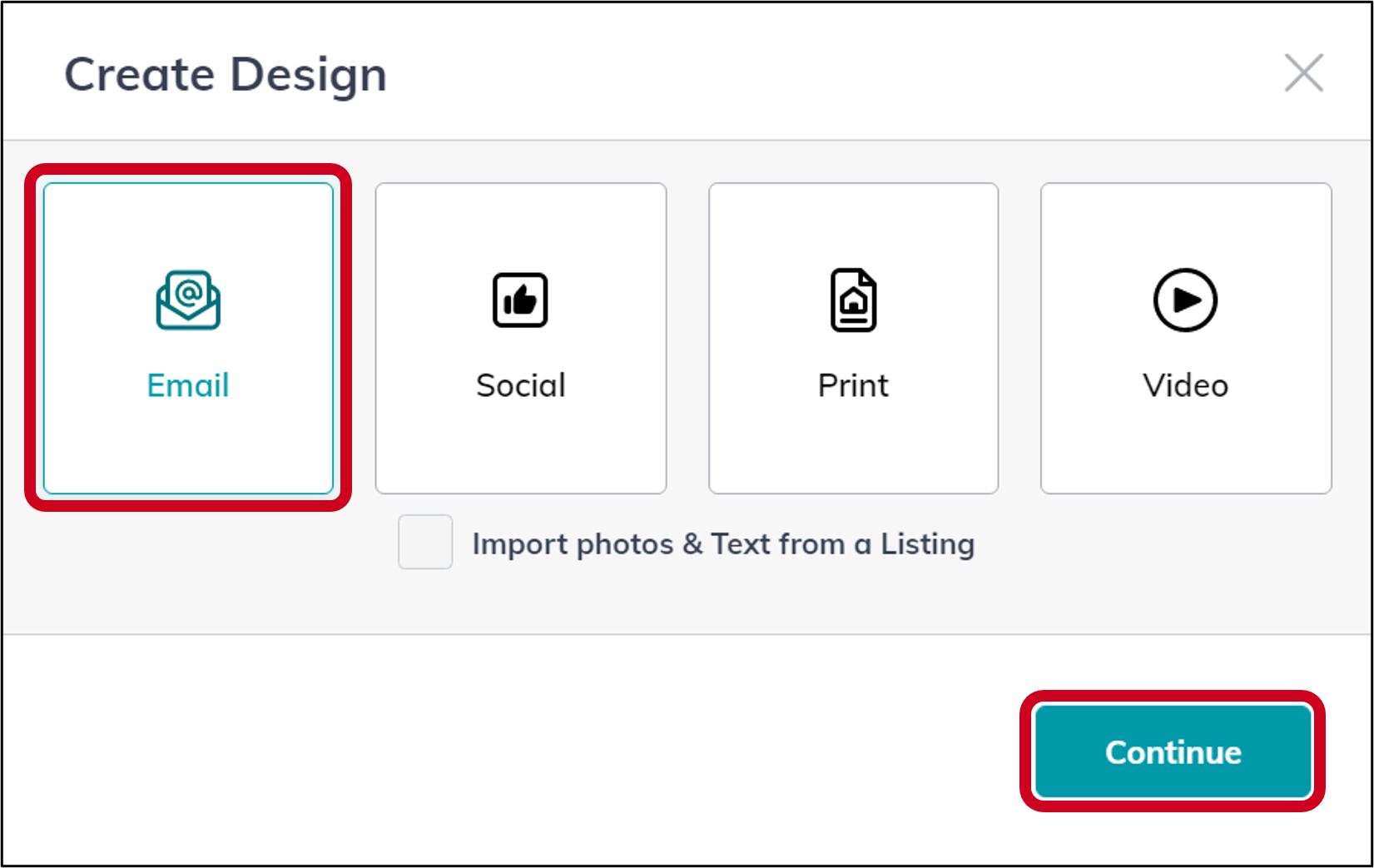 5. At the top right of the page, click Import HTML.
Import HTML
1. At the top of the Import HTML pop-up, select whether you want to include a legal header and/or footer, that include merge tags with information which will populate from your KW Marketing Profile. Check the Legal Header and/or Legal Footer checkbox, if you want any of these included with the imported template.
Once you import the HTML email design, you will not be able to add these in later, so be purposeful with these options.

2. There are two options for importing email HTML:
Paste Code - use if you have the actual HTML source saved in a document or on a notepad:

Copy the source code to the background clipboard on your computer (Control + C for Windows users).
Go to the Paste Code tab, on the Import HTML pop-up, highlight line 4 where it says "Paste your HTML code here."
Paste the code you copied.
Click Import, at the bottom right of the pop-up, when you are ready.



Import File - use if you have a .html file for this, on your computer:

Go to the Import File tab, on the Import HTML pop-up.
Drag and drop the file or click in the corresponding space, to upload the .html file.
Click Import, at the bottom right of the pop-up, when you are ready.

3. A pop-up will appear letting you know you are ready to edit your newly imported design. Click Got It.
Edit Your Design
When editing an imported email design, there are a few things to keep in mind:
If you import email HTML that wasn't downloaded from Command, the images cannot be imported. This means your design will be full of image placeholders. These will need to be replaced with the actual images from where you downloaded the HTML. The images are usually download along with the HTML file, in most email editors.



If the email HTML was downloaded from a Command account, the images will import, and you will have an opportunity to replace or resize these.



You will not be able to add new content blocks, or delete image placeholders/spacing cells. You can edit/delete textboxes, and replace/edit images.

Use the Designs Email editor to make edits to text boxes, replace images, name your design, utilize the email preview functionality, and save your changes.
Click here

to learn more about how to use the Designs Email Editor, keeping in mind that editing an imported template gives limited options for deleting and adding content blocks.